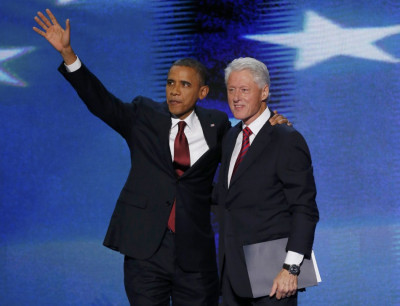 Barack Obama joined former president Bill Clinton at the Democratic National Convention at Charlotte, North Carolina, to rapturous roars from supporters of the party.
The two leaders may not be known for their "personal bonding" but both men bowed and bear-hugged each other on the stage, electrifying the delegates at the convention hall.
Before coming to the convention, Clinton was candid about his relationship with Obama when he told NBC: "We haven't been close friends a long time or anything like that, but he knows that I support him."
Clinton rallied for his wife Hillary Clinton's nomination for the office of president during the 2008 primaries.
Clinton's address is expected to boost the Obama campaign by bringing more support from white Americans. Obama's popularity among white men with college degrees was 13 points down on his Republican counterpart Mitt Romney, according to recent polls.
During his 50-minute speech, Clinton backed the economic policies of Obama and said he inherited a deeply damaged economy when he took office as the president of the country.
"No president - not me or any of my predecessors - could have repaired all the damage in just four years. But conditions are improving and if you'll renew the president's contract you will feel it."
"When President Barack Obama took office the economy was in free fall. It had just shrunk 9 full percent of GDP. We were losing 750,000 jobs a month. Are we doing better than that today? The answer to that is yes."
Clinton officially nominated Obama as the Democratic nominee for the forthcoming presidential election at the convention.
Scroll through the slideshow to see the two charismatic leaders in action during the Democratic convention 2012.