First Lady Michelle Obama delivered an emotional speech in support of presumptive nominee Hillary Clinton, during the first night of the Democratic National Convention (DNC) on Monday 25 July. The First Lady appeared to unite all those present, leading the audience to their feet as she pleaded with the party not to be complacent in November.
"I'm here because in this election, there is only one person who I trust with that responsibility and only one person who is truly qualified to be president of the United States, and that is our friend Hillary Clinton," Obama said, according to the Washington Post. "I want someone who has the proven strength to persevere."
Obama applauded Clinton for dedicating her life to making the US a better country. "When she didn't win the nomination high years ago, she didn't get angry or disillusioned," she said. "Hillary didn't pack up and go home. Hillary knows as a true public servant this is so much bigger than her own desires and disappointment."
The First Lady focused on the influence the upcoming president will have on America's youth. "In this election, and every election, it is about who will have the power to shape our children for the next four to eight years of their lives," she said. Obama discussed how she and her husband help their daughters deal with the hateful language thrown his way.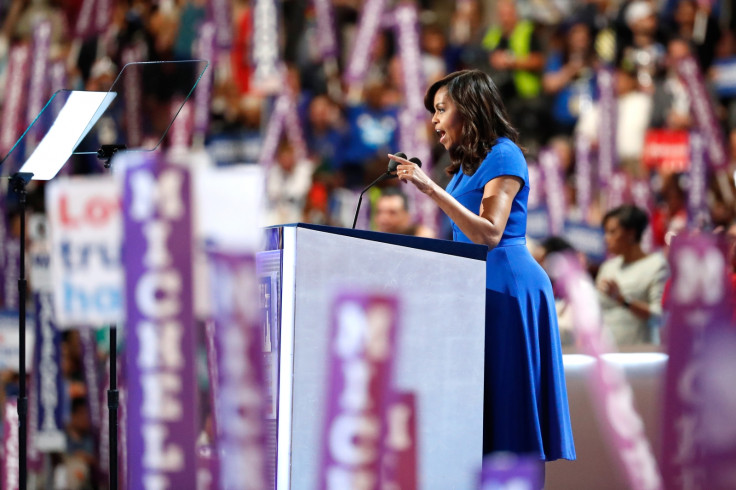 "We challenge them to ignore those who challenge their father's citizenship or faith," Obama said. "How we insist that the hateful language from public figures on television does not represent the true nature of this country. How we explain when someone is cruel or act like a bully, you don't stoop to that level. No, our motto is: When they go low, we go high."
She continued, while becoming visibly emotional, "What I admire most about Hillary is that she never buckles under pressure, she never takes the easy way out, and Hillary Clinton has never quit on anything in her life. And when I think about the type of president I want for my girls and all our children, that's what I want. I want someone with the proven strength to persevere, someone who knows this job and takes it seriously, someone who knows that the issues the president faces is not black and while and cannot be boiled down to 140 characters."
Without referencing the Republican nominee by name, Obama took a swipe at Donald Trump, Rolling Stone reported. "Don't let anyone tell you that our country isn't great, that somehow we need to make it great again, because right now, this is the greatest country on Earth."
Obama was one of several high profile speakers during the first night of the DNC, including New Jersey Senator Cory Booker, Massachusetts Senator Elizabeth Warren and Vermont Senator, Bernie Sanders.