DNC 2016: Vice President Joe Biden slams Donald Trump for 'confusing bluster for strength'
GOP candidate's cynicism is 'unbounded,' says vice president during convention speech.
Vice President Joe Biden delivered all of his guy-next-door sincerity to rain down on Donald Trump during the third day of the 2016 Democratic National Convention on Wednesday (27 July).
Biden, who stepped up to the podium to the tune of Rocky, began on a positive note, joking that he and President Obama married "way up," as he praised Michelle Obama's "best" speech earlier in the week.
He lauded Hillary Clinton. "If you live in the neighbourhoods like the one Jill [his wife] and I grew up in ... then there's only person in this election who will help you, who's always been there for you," he said.
But his most effective message was his attack on Donald Trump, especially on the GOP candidate's characterisation of himself as a "friend of the middle class."
The man who admitted he is known in Washington as "middle-class Joe" — and "that's not a compliment, Biden explained, "it means you're not sophisticated" — said Trump "doesn't have a clue" what he's talking about.
"Whatever he thinks ... and I mean this from the bottom of my heart ... I know why we are strong, why we are united. It is because there has always been a growing middle class. This guy doesn't have a clue about the middle class.
"When the middle class does well, the rich do very well and the poor have hope. They have a way out. He has no clue about what makes America great. Actually, he has no clue, period," said Biden.
"He's trying to tell us he cares about the middle class," Biden added. "Give me a break. That's a bunch of malarkey!"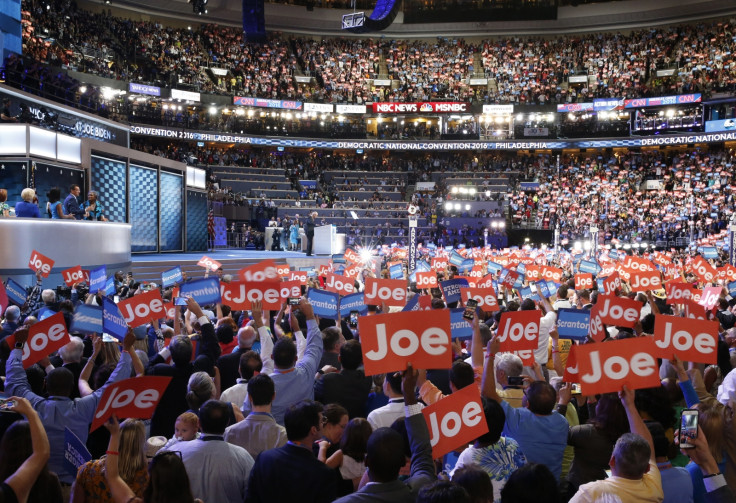 At one point Biden picked on Trump's reality TV series, The Apprentice, and his signature phrase in the program, saying: "Just listen to me a second without booing or cheering. [Trump's] cynicism and undoubtedly his lack of empathy and compassion can be summed up in that phrase he is most proud of making famous: 'You're fired.' I'm not joking. Think about that."
Biden claimed that no other major party nominee in history has been as unprepared as Trump is to lead the nation.
"Folks, let me say something that has nothing to do with politics. Let me talk about something that I'm deadly serious about. This is a complicated and uncertain world we live in. The threats are too great, the times are too uncertain, to elect Donald Trump as president of the United States.
"No major party, no major party nominee in the history of the nation has ever known less or been less prepared to deal with our national security.
"We cannot elect a man who exploits our fears of ISIS and other terrorists, who has no plan whatsoever to make us safer, a man who embraces the tactics of our enemies: torture, religious intolerance.
"It betrays our values. It alienates those who we need in the fight against ISIS. Donald Trump, with all his rhetoric, would literally make us less safe."
Biden accused Trump of "sowing division in America for his own gain," and blasted the GOP candidate's urging of Russian President Vladimir Putin to hack into Hillary Clinton's classified emails when she was secretary of state.
"We cannot elect a man who belittles our closest allies while embracing dictators like Vladimir Putin, a man who confuses bluster with strength, we simply cannot let that happen as Americans. Period," Biden said.
He concluded: "Folks, I mean what I say ... never, never, never bet against America. We do not scare easily. We never bow, we never break, when confronted with crisis. We endure. We overcome and we always move forward.
"We are America, second to none, and we own the finish line. Don't forget it.
"Come on. We're America."
© Copyright IBTimes 2023. All rights reserved.