The beleaguered chairwoman of the Democratic National Committee has announced she is resigning after the party's 2016 convention, in the wake of emails released by Wikileaks revealing she and other leaders plotted to undermine Bernie Sanders' candidacy in what was supposed to be an even-handed primary election process.
Florida Representative Debbie Wasserman Schultz's announcement that she would be stepping down had Sanders' supporters particularly cheering, with backers shouting on the streets of Philadelphia outside the convention site: "Debbie is done!"
In her resignation statement, Wasserman Schultz said that she remains committed to seeing Clinton elected president.
"I know that electing Hillary Clinton as our next president is critical for America's future," Wasserman Schultz added. "Going forward, the best way for me to accomplish those goals is to step down as party chair at the end of this convention."
Meanwhile, she said she plans to open and close the convention and address the delegates.
But Wasserman Schultz's pening speech is expected to be limited to mere minutes at most when the convention begins on Monday (25 July), with one source telling CNN that she is now effectively "quarantined."
Wasserman Schultz reached her decision after a private meeting with advisers and Clinton's senior aides at a Philadelphia hotel just hours before the convention was set to begin, the New York Times reported.
The DNC Rules Committee has named Democratic Ohio Representative, Marcia Fudge, as permanent chair of the convention, and she will open and close each of the four-day convention sessions.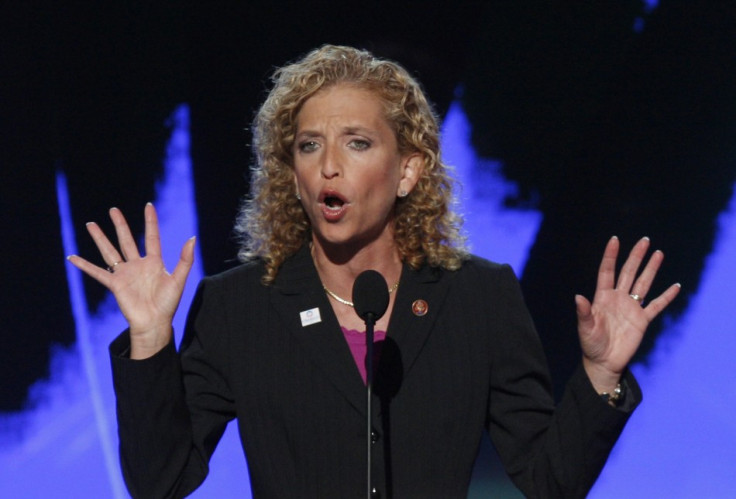 Wasserman Schultz was under intense pressure to step down over concerns that the email imbroglio could overshadow the convention.
Said Sanders: "Debbie Wasserman Schultz has made the right decision for the future of the Democratic Party." Sanders has long complained that the primary process is rigged against candidates whom party leaders don't like even before votes get a chance to have their say.
He went so far as to endorse Wasserman Schultz's opponent in her own primary race, which Wasserman Schultz won.
"While she deserves thanks for her years of service, the party now needs new leadership that will open the doors of the party and welcome in working people and young people," he added. "The party leadership must also always remain impartial in the presidential nominating process, something which did not occur in the 2016 race."
The embarrassing emails, released by Wikileaks, revealed party leaders discussing how to make the Sanders campaign look inept and to raise questions about whether he is an atheist.
The Clinton campaign has suggested that Russia was responsible for the leak as part of an effort help Trump, who has expressed a bizarre fondness for President Putin.
Clinton and party leaders hope the resignation will finally put to bed any remaining dissension between the Clinton and Bernie camps and a unified party can press on into the White House in November. The Clinton campaign received a major boost with the new endorsement of one-time Republican and popular former New York City Mayor, Michael Bloomberg.
Democratic Committee Vice Chair, Donna Brazile, will serve as interim chair through the election. President Obama issued a statement saying that Wasserman Schultz "has had my back ... I called her to let her know that I am grateful." Clinton thanked Wasserman Schultz for her party leadership.