It has been proved time and again that a dog is a man's best friend, but on Sunday (16 July), an English golden retriever has proved that it is not only loyal to mankind but also cares for other animals.
The brave dog named Storm was caught on camera when he jumped into the Long Island Sound, the body of water between Connecticut and Long Island, to save a baby deer drowning off the shores of Long Island, New York.
According to reports, the incident happened when Storm was walking with its owner, Mark Freeley, on Sunday morning when it saw the baby deer floating in the chilly waters off the New York coast.
"Storm just plunged into the water and started swimming out to the fawn, grabbed it by the neck, and started swimming to shore," Freely, who recorded his dog's best of bravery and kindness, told CBSNewYork.
Freely also said that Storm grabbed the fawn by the neck and started swimming towards the coast. He added that as soon as it reached the shoreline with the baby deer, it lay down next to the baby deer and started nudging it, probably to "make sure it is gonna be okay".
Freely told reporters that he immediately called the experts to take care of the fawn, but when they reached the fawn was in its senses and probably spooked by the dogs around it, it ran back into the water.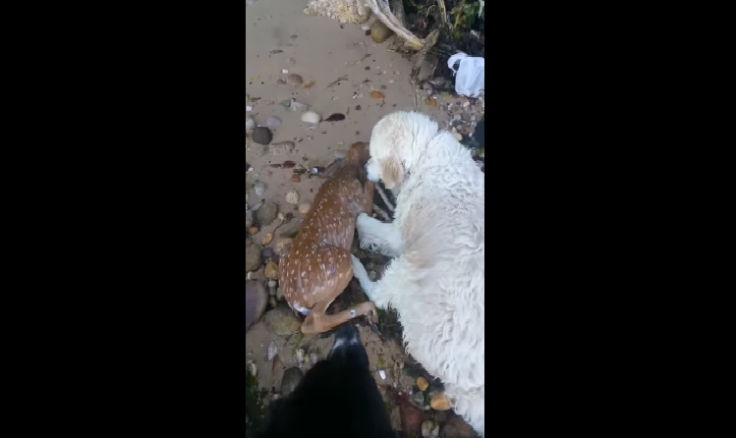 And then began the rescue part two. "This time it went out even further," Freeley said.
He added that it took around eight minutes to rescue the fawn for the second time. "The second rescue was a lot of anxiety," Freely said and continued that then he felt Storm's pain and what it went through.
He also thanked his partner Eric Kutzing for the aid, who ran about a mile on the beach to help.
"I don't think I could've done it without the help of my partner. I was exhausted at the point my knee blew out, and I collapsed on the beach," Freely added.