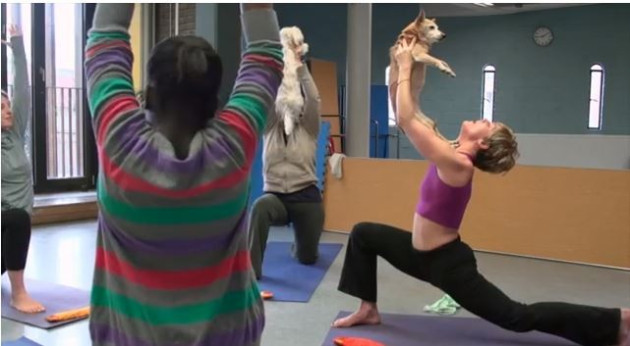 Good news for dog lovers: Yoga the ancient Hindu practice known for its relaxation and stress-combating techniques, is now something their beloved pets can practise too.
The technique, modified to help dogs work out and relax, is popularly known as Doga and is rapidly picking up among dog owners in the US.
"The parasympathetic nervous system and the sympathetic nervous system of a dog work in exactly the same way as a human," Mahny Djahanguiri told Metro. "These govern sleep, digestive systems and the flushing of toxins. Calming your dog down with Doga can have huge health benefits for them."
"Doga benefits both the person and their dog: It helps the dog get lots of stretches. It stretches the dog's back, legs and spine and helps calm them down" another instructor, 29-year-old San Jose resident Marcela Castro, told Mail Online.
Castro has between 30 and 100 participants and their dogs attending the classes. Castro says Yoga also helps dogs with behavioural problems.
"Dogs with behavioural problems started to come and now are much more calm and better behaved. It is also good for dogs to mix with other dogs," Castro added.
Doga originated in Florida in 2001 and the idea was introduced by instructor Suzi Teitelman whose dog used to climb onto the mat with her when she would practice.
"I realised he loved yoga and being around the class so I started adding him into the postures. I would inhale my arms up and he would inhale his arms up - with some help from me. Over the years we have perfected the postures and found moves that suit both our bodies," Teitelman said about her Yoga experience with her dog.
"Doga is about sharing your mat with your dog, not shooing them away," she added.
Check out videos of people practising Doga below:
(Video courtesy: YouTube/Irene Eckman)
(Video courtesy:YouTube/geobeats)