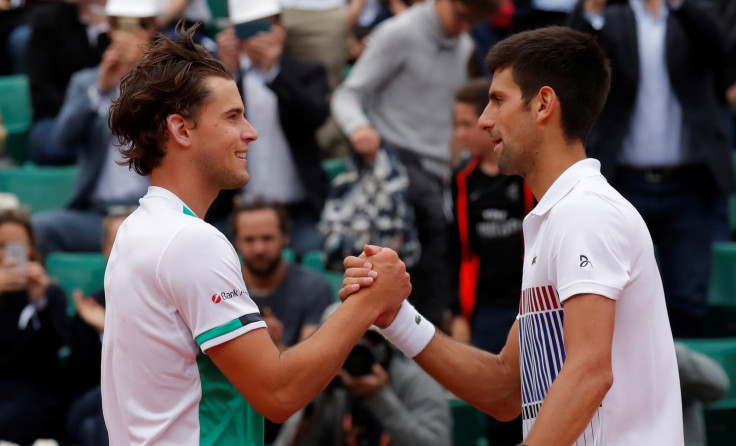 Dominic Thiem has no time to bask in the glory of his superb French Open victory over Novak Djokovic with a semi-final showdown with Rafael Nadal looming large.
Thiem, 23, reached the last four at Roland-Garros for the second consecutive year after a 7-6 (7-5) 6-3 6-0 victory over the former world number one, who relinquished the last of his titles with that defeat in Paris.
Djokovic swept past the young Austrian at the semi-final stage of the competition last year and thrashed the 23-year-old 6-1 6-0 in their last meeting at the Italian Open just two-and-a-half weeks ago.
Explaining the remarkable turnaround that unfolded on Wednesday, Thiem told a press conference: "I didn't play a different game style, I just had a positive win-error statistic today that is very important," he was quoted as saying by Tennis World USA.
"I think that was never that case against him [Djokovic] before. Yes, the first set, I could easily lose, and I think it was the key in this victory against him to win the close first set, and then have a good start to the second set as well."
Djokovic's remarkable fall from grace saw the pressure mount on him as he attempted to rescue the contest in the third set, something Thiem admits worked to his favour. "It's understandable that there is a little bit of tough things mentally coming up to him. And that's why at the end it was probably a little bit easier."
Thiem acknowledges Nadal is in his "best shape" and admits he must find a way to deal with the Spaniard's thumping forehand, warning he will not give him the opportunities to punish him from those areas. But after seeing off Djokovic, he is confident.
"You cannot defend it [Nadal's forehand] all the time. I just have to watch that I am I am not giving him his favourite positions on the forehand. It is one of the best shots in tennis. I will concede some winners on Friday.
"So far I have always played a way worse match the following day if I beat a top guy. So I hope I can improve that. It is a joke how tough it is to win a slam. Because obviously now I beat Novak. On Friday it is Nadal. In the finals there is another top star. That's why it is a slam, it is because it is such a tough achievement."