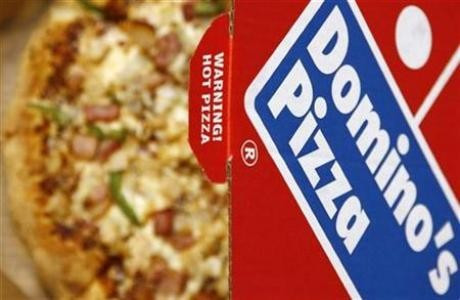 Shares in Domino's Pizza UK & Ireland were down on the FTSE 250 in afternoon trading despite the company reporting a rise in sales and pre-tax profit in the full year ended 26 December 2010.
System sales were reported as rising 19.3 per cent to £485.3 million, while pre-tax profit increased 27.3 per cent to £38 million. Like for like sales at the company's 553 mature stores increased 11.9 per cent.
The group said it would be increasing its total dividend 31.6 per cent to 10.20 pence per share.
In the year long period Domino's Pizza said it had opened 57 new stores, up from 55 opened in the previous year, taking the group's total number of stores to 665. The group also created 1,700 new jobs in Great Britain last year.
Domino's said that its online system sales increased 63 per cent in the period to £128 million. Online sales now account for 35.8 per cent of delivered sales in Great Britain, up from 27.8 per cent in the previous year.
Chris Moore, Chief Executive Officer of Domino's Pizza UK & Ireland, said, "I am delighted to report another exceptional set of results. The business has continued its remarkable run with an increase in system sales of 19.3% to £485.3m (2009: £406.9m), like-for-like sales growth of 11.9% across 553 mature stores (2009: 8.4% in 501 stores), and a record 57 new store openings (2009: 55). We have opened our new commissary and we are in a strong position to continue with our exciting growth plans.
"We have had a solid start to 2011, with like-for-like sales for the first seven weeks up 4.7% and are encouraged by the recent strength in like-for-like sales growth. This figure comes against the backdrop of exceptional comparatives from the same period in 2010 and the current difficult economic climate. We are pleased with this performance and we will be benefitting from our accelerated store openings, the recent deal with Moto motorway services, and the operational gearing which will drive our profits going forward.
"The Company is well positioned to further capitalise on our market leading position. We will continue to do what we do best - make great quality pizzas, delivered with great customer service and marketed in interesting and innovative ways. By doing this, I am confident that we will deliver another year of strong growth."
By 12:25 shares in Domino's Pizza UK & Ireland were down 6.67 per cent on the FTSE 250 to 488.10 pence per share.