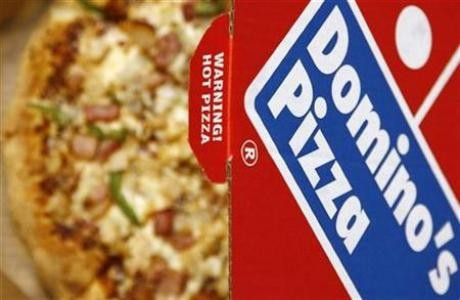 Shares in Domino's Pizza were up on the FTSE 250 in morning trading after the group reported double digit sales growth in the fourth quarter ended 26 December 2010.
Domino's said that its system sales in the period increased 17.8 per cent to £132.5 million. In the year ended 26 December system sales were reported as rising 19.2 per cent to £485.3 million.
Like for like sales at Domino's 533 mature sales increased 10.3 per cent.
During the year Domino's opened 57 stores, up from 55 in 2009, taking the group's total number of stores to 665.
The year also saw Domino's introduce an iPhone app to aid its e-commerce sales, which rose 63 per cent last year to £128 million. The group will soon be launching an app for Android phones to boost e-commerce further.
Last year Domino's returned £18.3 million to shareholders through share buybacks and dividends.
Chris Moore, Chief Executive of Domino's Pizza, said, "It's fantastic to be reflecting on another incredible year of growth - especially as 2010 saw Domino's celebrating 25 years in the UK. It has been a great year with a particular highlight being the opening of our new commissary, which provides the base we need to continue to grow over the coming years.
"For the last few years, we have been talking about our strong sales figures beating some tough comparatives - and this year is no exception. We have set ourselves some challenging targets to beat in the coming year, but we believe that a great product, supported by exemplary customer service and innovative marketing, will continue to recruit new and retain existing customers in 2011.
"We have again finished the year with a like-for-like sales performance that is ahead of expectations and, together with the improvements in our operational gearing, I am delighted to announce that the Company will deliver full year 2010 profits ahead of current City expectations. We will update the market further on 15 February 2011 with the publication of the Company's preliminary results."
By 10:50 shares in Domino's Pizza were up 1.26 per cent on the FTSE 250 to 563.00 pence per share.