Against all polls and predictions, Donald Trump has claimed victory in the presidential election to become the next leader of the United States. Despite his campaign being mired in scandal and controversy, the 70-year-old billionaire beat formidable opponent Hillary Clinton in a dramatic and historic night for American politics.
Despite early hopes that Clinton would have an easy road to the White House, Trump stormed to victory with wins in battleground states such as Ohio, Pennsylvania and Florida. Even as a Trump win appeared inevitable, Clinton had hope she could take key states such as Michigan, New Hampshire and Wisconsin. Despite late wins in Nevada and Minnesota, the Democratic candidate could not reach the 270 electoral college votes she needed for the presidency.
Here is what happened.
00:12 (GMT), 07:12 (EST): The results are called for some states. Trump wins Indiana and Kentucky, Hillary Clinton wins Vermont.
Many predict Clinton will become the first female president of the United States – and crowds of people flock to the grave of 19th century suffragette Susan B Anthony to leave 'I Voted' stickers on her gravestone.
00:30: Trump wins West Virginia
01:00: Clinton is projected to win New Jersey
01:05: Clinton wins Illinois, Massachusetts, Maryland and Delaware. Trump wins Missouri, Mississippi, Oklahoma and Tennessee.
01:15: Trump wins South Carolina
01:20: Trump climbs up to 51, having won Tennessee
01:30: Trump wins Alabama
01:45: Rhode Island is won by Clinton
01:55: Mississippi is called for Trump
02:00: District of Columbia votes over 93% for Clinton
02:10: The Mexican peso nosedives as Trump wins Texas and Colorado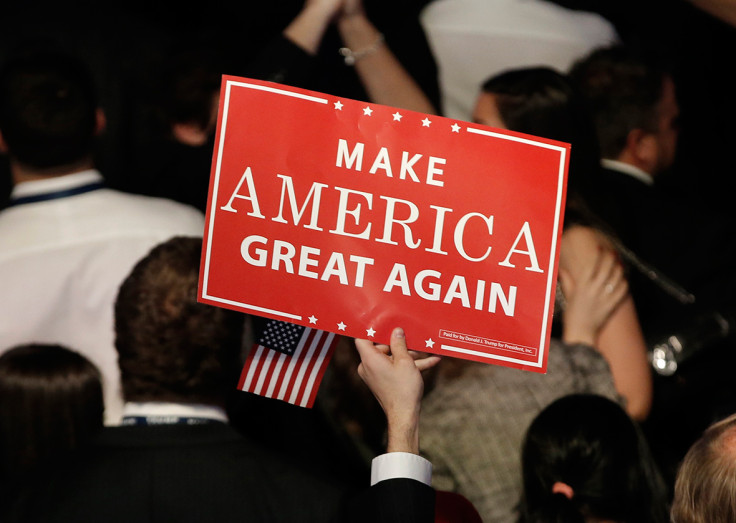 02:15: Trump wins Nebraska, Kansas, North Dakota, South Dakota, Wyoming, and Arkansas.
02:30: The markets weaken as a Trump victory looks more likely. Dow futures are down around 400 points.
02:32: Trump wins New Hampshire
02:40: Asian shares drop in the increasing chance of Trump winning the election. AP releases the following:
"Share benchmarks are tumbling across Asia after Donald Trump gained the lead in electoral votes, with 123 to Hillary Clinton's 97 as of 9pm EST (02:00 GMT). Markets had opened solidly higher but quickly shed those gains, reflecting investor concern over what a Trump presidency might mean for the economy and trade.
"Japan's Nikkei 225 index dropped 2.4% to 16,777.85 as the US dollar sank against the Japanese yen, a trend that would be unfavourable to exporters. Hong Kong's Hang Seng plunged 1.7% to 22,514.70.
"South Korea's Kospi index fell 1.4% to 1,976.49 and Australia's S&P ASX/200 lost 1.2% to 5,196.70.
"Earlier, investors had appeared convinced that Hillary Clinton would win the presidency. Clinton is viewed as a more stable option who might maintain current policies.
"In currency trading, the US dollar was trading at 102.60 yen down from a high earlier in the session of 105.46. The euro was at $1.1142, up from its previous close of $1.1020."
03:02: Trump wins Montana
03:32: Trump wins Missouri
03:40: Trump takes Ohio, another swing state
03:53: Florida is called for Trump – and it looks even more likely that he will be the next president.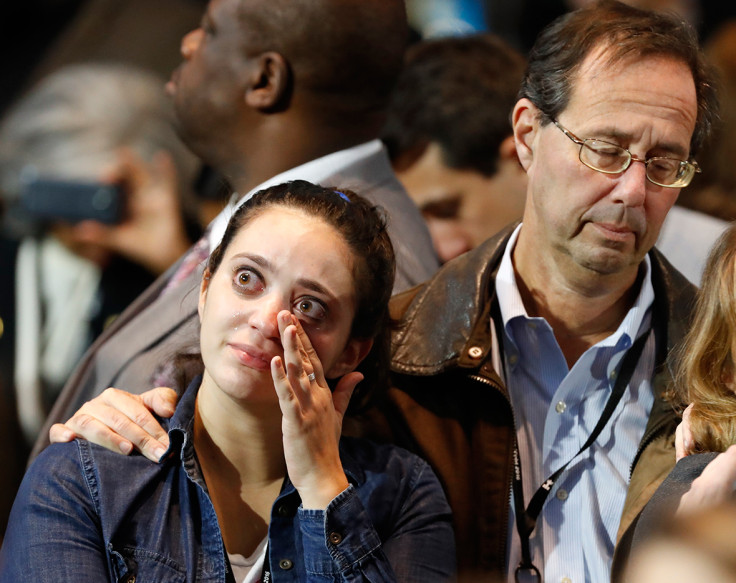 04:02: Clinton wins California
04:13: Clinton wins Oregon, Trump wins North Carolina
04:38: Canadian immigration website crashes as Americans look to leave the States in the increasing likelihood of a Trump presidency.
05:05: Trump wins Iowa
05:29: Clinton wins Nevada
06:00: China seems to be eagerly anticipating a Trump presidency, with state media suggesting he would do less to disrupt the Asian powerhouse's foreign policy ambitions than Clinton. US Ambassador to China, Max Baucus said US-China ties are "the world's most important relationship".
06:20: Republicans retain control of the Senate with victory in Pennsylvania.
06:45: Trump wins Pennsylvania
07:30: Trump wins Wisconsin
08:00: Trump delivers his acceptance speech at the Hilton Hotel in New York City, to a crowd of cheering supporters. It is conciliatory and he congratulates Clinton on a "a very, very hard-fought campaign".
"Now it is time for America to bind the wounds of division, have to get together. To all Republicans and Democrats and independents across this nation, I say it is time for us to come together as one united people," he says.
"It is time. I pledge to every citizen of our land that I will be president for all of Americans, and this is so important to me. For those who have chosen not to support me in the past, of which there were a few people, I'm reaching out to you for your guidance and your help so that we can work together and unify our great country. As I've said from the beginning, ours was not a campaign but rather an incredible and great movement, made up of millions of hard-working men and women who love their country and want a better, brighter future for themselves and for their family.
"It is a movement comprised of Americans from all races, religions, backgrounds, and beliefs, who want and expect our government to serve the people, and serve the people it will."