Likely Republican nominee Donald Trump claimed that undocumented immigrants in the US receive better care than the country's military veterans, during a speech at the annual Rolling Thunder motorcycle rally on Sunday (29 May). Trump did not back up his allegation.
"In many cases illegal immigrants are taken much better care [of] by this country than our veterans and that's not going to happen," Trump told a crowd of US veterans in front of the Lincoln Memorial. "Thousands are people are dying waiting in line to see a doctor. That is not going to happen anymore."
Trump continued, "If there's a wait, we're going to give the right to those people to go to a private doctor or even a public doctor and get themselves taken care of and we're going to pay the bill." The presumptive GOP nominee addressed a largely friendly crowd, though he was met with some signs criticizing him for not doing military service, the New York Post reported.
The bombastic billionaire has been on a quest to repair the damage done last summer when he attacked the military record of Arizona Senator John McCain, a former prisoner of war. Trump claimed at the time that McCain was only considered a hero because he was a POW during the Vietnam War. "I like people who weren't captured," he said at the time.
According to the BBC, since those comments, Trump has held several fundraising events honouring veterans. He has not, however, apologised for his comments towards McCain, which has prompted the Republican senator to call on Trump to apologise to fellow prisoners of war for the remark. Former Senator Bob Dole also called on Trump to apologise to McCain for insulting his military record.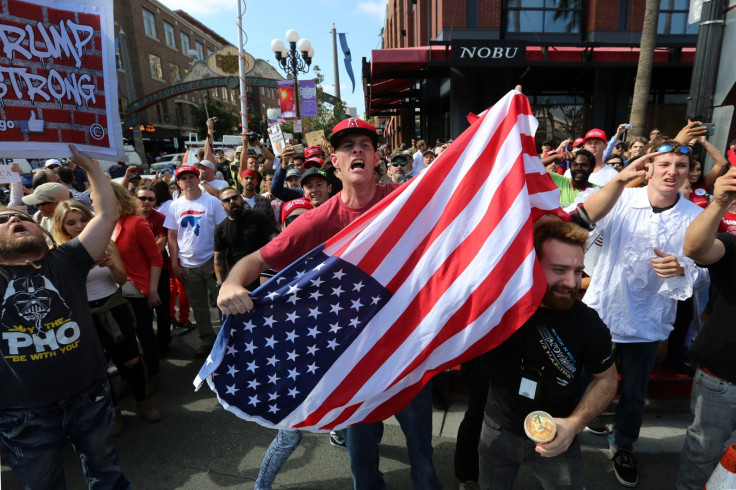 Trump, who managed to avoid the draft through a series of deferments, has faced criticism for not distributing the $6m he has claimed to have raised for veterans, ABC News noted. He is expected to announce on Tuesday (31 May) the names of the charities chosen to receive the money raised, which includes $1m Trump pledged himself.
The Rolling Thunder event drew an estimated 5,000 people, which prompted Trump to claim that 600,000 people were attempting to get in. "I thought this would be like Dr Martin Luther King, where the people would be lined up from here all the way to the Washington monument, right? Unfortunately, they don't allow 'em to come in," he said.
A spokesman for the National Park Service told the Post that there were no restriction on who could come to Washington DC and onto the National Mall to attend the annual event.
---
Read more in our series on Generation Trump.