Donald Trump to Hispanic journalist Jorge Ramos: 'Go back to Univision'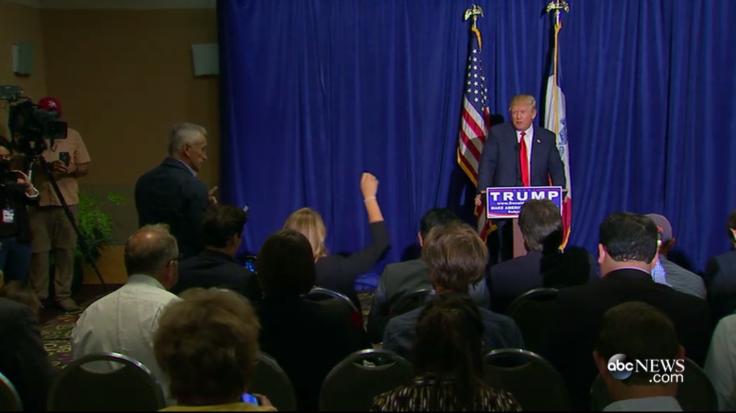 Republican presidential front-runner seems to have it out for journalists this week. The GOP candidate had news anchor Jorge Ramos kicked out of a press conference in Iowa after the Univision journalist began asking a question on immigration without being called on first.
Trump first told Ramos, who also works for the ABC News/Univision site Fusion, to "sit down" because he was not called on. "You haven't been called ... go back to Univision," Trump said.
Ramos was then escorted out of the press conference by security personnel. According to Business Insider, reporters immediately began asking Trump why Ramos had been evicted from the event. Trump responded: "He's obviously a very emotional person."
Political reporter Benjy Sarlin of MSNBC tweeted that Trump said he had "no problem" with throwing Ramos out of the press conference. Ramos was admitted back into the conference about 10 minutes later and allowed to ask his question on immigration. Trump ended the tense back-and-forth with: "You and I, we'll talk."
Ramos, a bilingual reporter and news anchor, is widely considered one of the most influential Hispanic news anchors in the US. According to CNN Money, he has been attempting to get an interview with the enigmatic Republican for months.
A spokesman for Ramos later told reporters: "We'd love for Mr Trump to sit down for an in-depth interview with Jorge to talk about the specifics of his proposals. We think his thoughts on the topic of immigration are important to Jorge's viewers on Fusion and Univision."
Trump sued Univision for $500m after the network decided to cancel its airing of the Miss USA pageant following Trump's controversial comments against Mexican immigrants. Kicking out Ramos from the news conference is unlikely to endear Trump to Latino and Hispanic voters.
A recent Gallup poll revealed that Trump had net favourable score of -51 among Hispanics in the US. Gallup reported that while Hispanic's views of Trump prior to his presidential announcement were not measured, he has consistently averaged between -51 and -50 among Hispanics.
Trump also reportedly denied press conference access to the Des Moines Register.
© Copyright IBTimes 2023. All rights reserved.