Donald Trump and Justin Trudeau are chalk and cheese – but Canada and the US need each other
The two countries share a 9,000km border and are major trading partners.
When Canadian Prime Minister Justin Trudeau told an audience at a 2016 UN conference that he was a feminist, he probably didn't foresee launching a task force on working women with a world leader who bragged about grabbing women's genitals.
Yet that is the reality show Trudeau will be starring in today with US President Donald Trump.
Trump's daughter, Ivanka, helped organise the task force which will offer Trudeau, who appointed women to half of his cabinet positions, an opportunity to take the spotlight away from more contentious issues, like trade.
Trudeau is in Washington for their first face-to-face meeting. Normally though, it is the US president who visits Canada and, often, it is his first foreign visit. However, that didn't happen because both sides reportedly were afraid of mass protests.
That is symbolic of the nature of the relationship between the two countries – one that is necessary for both but surrounded by tension, at least as long as Trump is president.
It is hard to imagine the two countries being further apart ideologically. As Trump put into question free trade agreements with other countries, Canada signed one with the EU. While Trump has tried to ban entry to the US from seven Muslim-majority countries, including Syria, Trudeau famously campaigned on granting asylum to 25,000 Syrian refugees and then exceeded that number once he got into office.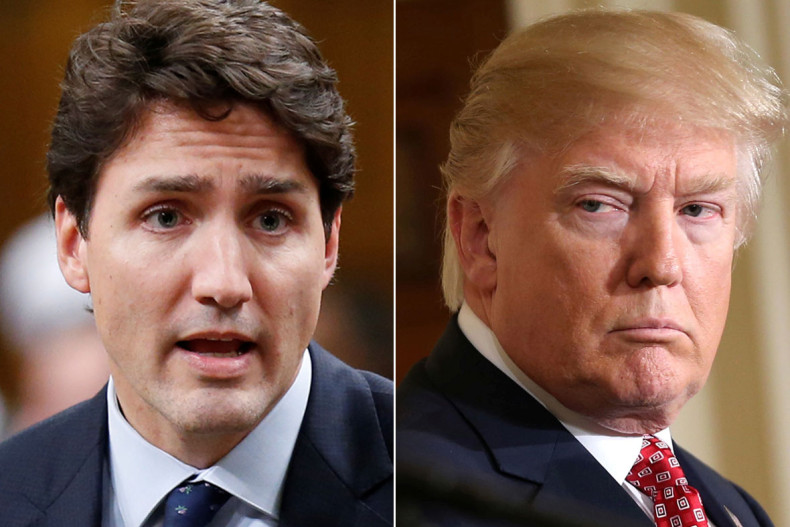 But while their differences are real and stark, there are some similarities. Both used social media, especially Twitter, to cultivate their following. While no reality TV star, Trudeau doesn't shy away from selfies – even when shirtless.
Both leaders were helped by name recognition and born into privilege – Trump's father was a real estate magnate while Trudeau's father was the prime minister of Canada for 16 years, whose legacy gave his name similar weight to that of a Kennedy.
Canada's dependence [on the US] fuels a never-ending inferiority complex.
So perhaps Trudeau can find some common ground to continue the measured tone he has taken, knowing he cannot risk having Canada's relationship with its largest trading partner deteriorate.
Top of the mind for Canadians is the North American Free Trade Agreement (Nafta), between the two countries plus Mexico.
In 2015, about £560bn worth of trade was done between Canada and the US. Canada's ambassador to Washington, David MacNaughton, says his country could be "collateral damage" over possible re-negotiations.
Officials are so keen to protect their trade relationship with the US that MacNaughton said Canada would be willing to discuss negotiations on Nafta without Mexico.
Canada also stalled a peacekeeping mission to Mali, reportedly due to uncertainty over what the Trump administration is expecting from Canada on its security commitments, which has annoyed France and Germany.
However, Canada has some leverage – the two countries share a border almost 9 000-kilometres-long. That makes close cooperation essential to security with about 400,000 people crossing daily.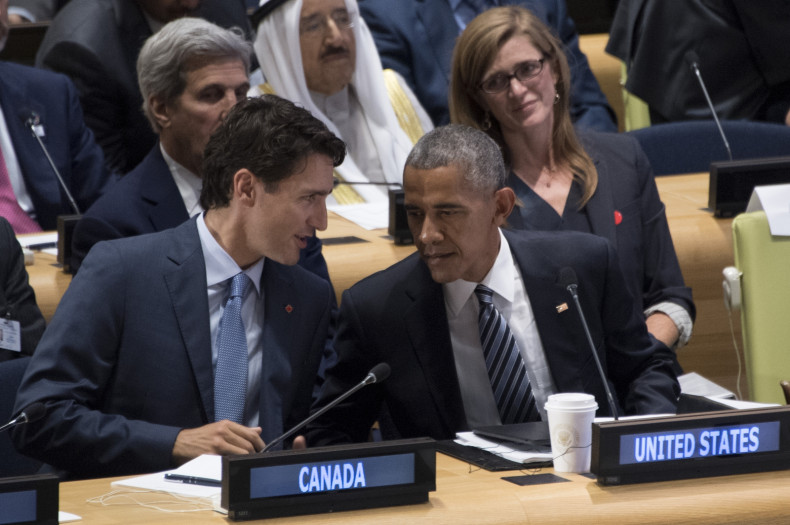 In 2015, an agreement was signed allowing US customs and border officers to be placed in Canadian locations to examine passengers and their baggage before they cross into the US. Canada is also the largest goods export market for the US and its top foreign supplier of oil.
But even that highlights Canada's dependence on the US, which buys 71 per cent of Canada's oil, according to 2013 statistics.
Polls suggest that 66 percent of Canadians disapproved of the new US president.
Canadians are well aware of this dependent reality that fuels a never-ending inferiority complex that would weigh on any country living next to a spotlight-loving superpower. So while Trudeau will have leeway to compromise with Trump, there are clear risks in getting too cozy with such an antagonist of Canada's political centre and left.
A January poll suggested 66 per cent of Canadians disapproved of the new US president. The number jumped to 87 per cent for voters of the centre-to-the-left Liberal party that Trudeau leads.
Consequently, the Canadian leader has sent out signals that he will – to some extent – be a foil to Trump. After the November election, Trudeau appointed a new foreign minister who is of Ukrainian descent and a strong critic of Russia, which earlier banned her from travelling to the country.
As well, a former refugee from Somalia was made the immigration minister.
On Twitter, Trudeau congratulated people who demonstrated in Canada in solidarity with the women's march in the US. But the question is, how much of this rhetoric will turn into policy?
During the chaos of Trump's executive order on the seven Muslim-majority countries, Trudeau tweeted that Canadians will welcome "those fleeing persecution, terror & war". As it turns out, that has its limits.
A few days later, the immigration minister said the country would not increase its intake of refugees in response to the ban.
Nonetheless, the statement garnered hundreds and thousands of retweets and grabbed international headlines which will play well with Trudeau's base.
It is a balancing act that the Canadian prime minister must play – to work on economic and security interests that are vital to Ottawa but to nurture the image of a diversity-loving progressive that got him into power.
---
Kristina Jovanovski is a Canadian journalist who was previously based in Ukraine, Hungary and the UK. She spent two years covering the crisis in Ukraine, including the conflict in the east from both sides of the front line. She then covered the refugee crisis throughout Europe. She has worked as a news writer and producer for outlets including Sky, CBC and CTV.
---