President-elect Donald Trump announced Wednesday (11 January) he had chosen Obama appointee David Shulkin to head the Department of Veterans Affairs (VA). Shulkin has served as undersecretary for health at the VA since July 2015.
"I'll tell you about David: He's fantastic, he's fantastic," Trump said during his first news conference since his election victory. "He will do a truly great job. One of the commitments I made is that we're going to straighten out the whole situation for our veterans."
The president-elect continued: "Our veterans have been treated horribly, they're waiting in line for 15, 16, 17 days, cases where they go in and they have a minor early stage form of cancer, they can't see a doctor. By the time they get to a doctor, they're terminal. It's not going to happen, it's not going to happen."
Shulkin's nomination ends a drawn-out search for the chief of the VA. According to Politico, Trump interviewed several candidates, including veterans' advocates, former politicians and healthcare executives. Trump noted that his team "looked long and hard" for someone to fill the position, interviewing "at least 100 people".
Trump's pick received praise from veterans groups, lawmakers across both parties and the American Federation of Government Employees, which represents nearly 250,000 VA employees.
If confirmed, Shulkin would become the first VA secretary in the department's history to not be a veteran. His work under current Secretary Robert McDonald has been praised by veterans groups.
"While our membership has been clear in its preference to have a veteran leading the VA, I am heartened by the fact that Dr Shulkin seems to legitimately 'get it,'" AMVETS Executive Director Joe Chenelly told Politico.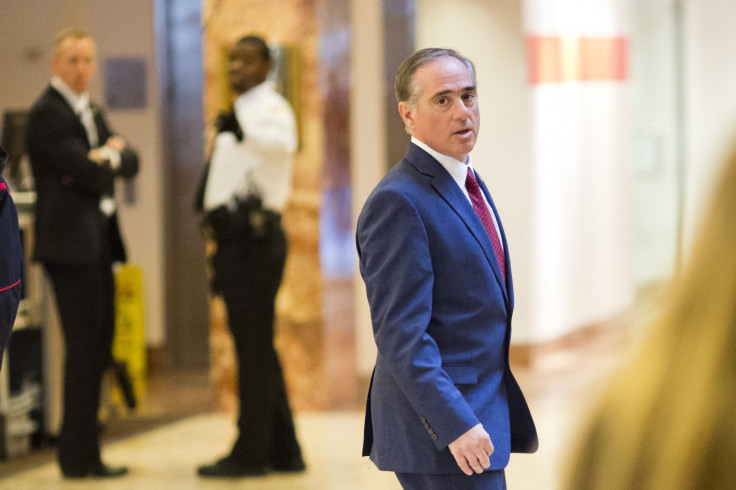 In an interview with USA TODAY, Shulkin said he had managed to reduce the number of veterans waiting for urgent care from 57,000 to 600. He also spearheaded an initialtive to provide same-day care at all 167 VA medical centres around the US by the end of 2016, although it is unclear if the objective has been achieved.
Trump added during his conference that his transition team will vet people to join Shulkin at the VA to help with the overhaul. The president-elect said that leaders from several respected hospitals, including the Mayo Clinic and Cleveland Clinic, had agreed to help. "We're going to straighten out the VA," he said. "I've been promising that for a long time, and it's something I feel very very strongly [about]."