Donald Trump says transgender people should use any toilet they want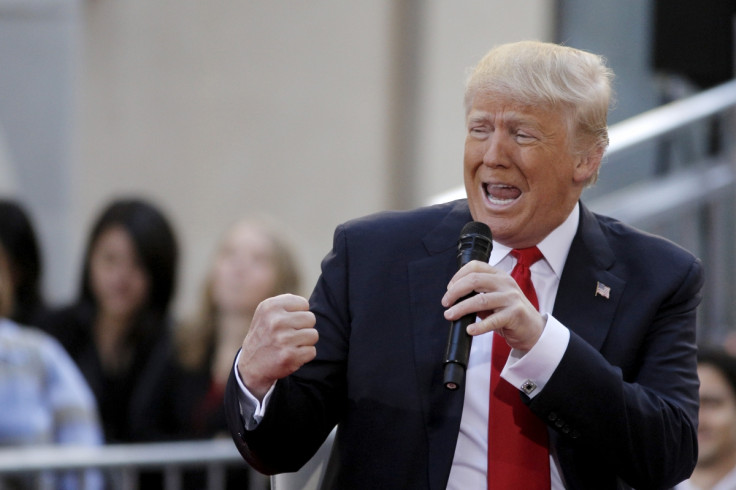 Republican presidential frontrunner Donald Trump said he believes transgender people should be allowed to use whichever toilet they feel most comfortable using. Trump made the comments—delving into the controversial issue of North Carolina's HB 2—during a town-hall-style event hosted by NBC's Today show on 21 April.
"North Carolina did something that was very strong and they're paying a big price and there's a lot of problems," Trump said. "There have been very few complaints the way it is. People go, they use the bathroom that they feel is appropriate, there has been so little trouble."
When asked if he would allow Caitlyn Jenner to use whichever toilet she wanted to at Trump Towers, the bombastic real estate mogul said that he would. Trump added that the movement to create new toilets purely for transgender people could be considered discriminatory and would be very expensive. He also noted the economic hit the southern state has taken for passing the law.
Trump's chief rival, Texas Senator Ted Cruz was quick to condemn Trump's comments. "Donald Trump is no different from politically correct leftist elites. Today, he joined them in calling for grown men to be allowed to use little girls' public restrooms," Cruz said in a statement. "As the dad of young daughters, I dread what this will mean for our daughters—and for our sisters and our wives. It is a reckless policy that will endanger our loved ones."
Cruz continued: "Donald stands up for this irresponsible policy while at the same time caving in on defending individual freedoms and religious liberty."
North Carolina's HB 2 has cost its capital $3m (£2.09m) in tourism losses. The Greater Raleigh Convention and Visitors Bureau told the media that economic losses from the controversial law have quadrupled in the last week. Several high-profile musicians have also cancelled concerts in the state, including Pearl Jam, Ringo Starr, Bruce Springsteen and Cyndi Lauper.
© Copyright IBTimes 2023. All rights reserved.