Donald Trump tells Khizr Khan: Your son would still be alive if I had been president
Row over fallen army captain in Iraq sees Republicans distance themselves from Trump.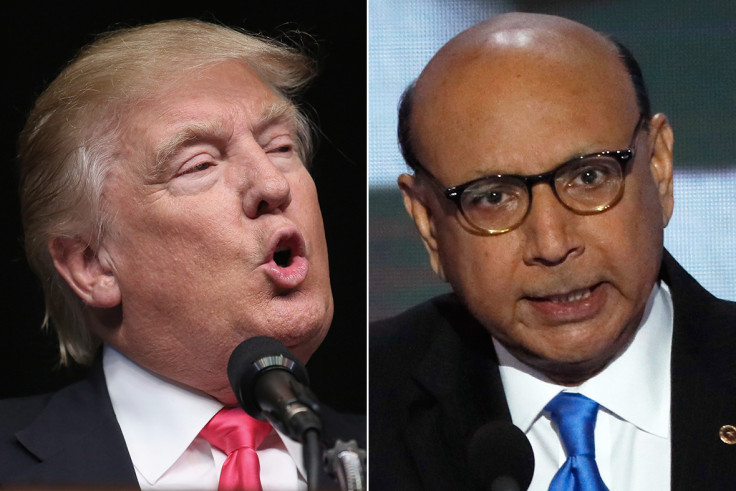 GOP candidate Donald Trump told the parents of a Muslim soldier killed in Iraq their son "would still be alive" if he had been president at the time. In an exchange of words that has rolled on since Khizr Khan spoke at the Democrat Convention about his late son Captain Humayun Khan and Trump's policies on Muslims entering the country, Trump hit out again at the Khan family.
In an interview with Sean Hannity on Fox News on 1 August, Trump said on the topic of Khan's speech: "If I were president, his son wouldn't have died because we wouldn't be in a war. I wouldn't have been in the war."
His comments came following a press release issued on the topic stating: "Captain Humayun Khan was a hero to our country and we should honour all who have made the ultimate sacrifice to keep our country safe.
"The real problem here are the radical Islamic terrorists who killed him, and the efforts of these radicals to enter our country to do us further harm. Given the state of the world today, we have to know everything about those looking to enter our country, and given the state of chaos in some of these countries, that is impossible.
"While I feel deeply for the loss of his son, Mr Khan who has never met me, has no right to stand in front of millions of people and claim I have never read the Constitution, (which is false) and say many other inaccurate things. If I become President, I will make America safe again."
Trump also suggested in the transcript of an interview with ABC shared on his website that Khan's wife Ghazela was not allowed to talk, stating: "She had nothing to say. She probably, maybe she wasn't allowed to have anything to say. You tell me. But plenty of people have written that. She was extremely quiet. And it looked like she had nothing to say."
His remarks caused many Republicans including Senator John McCain to distance themselves from Trump, particularly as the exchange between Trump and Khan has rumbled on.
© Copyright IBTimes 2023. All rights reserved.