Donald Trump thought terrorists controlled parts of the UK, so Theresa May had to correct him
Trump made the claims at a lunch with Theresa May in 2017.
The UK prime minister challenged him on the issue.
Trump is an avid Fox News viewer.
Donald Trump earnestly believes that parts of the UK are overrun with violent jihadis – clashing with Theresa May about the issue at a lunch last year, according to the British prime minister's former speechwriter.
Elements of the US media have for years falsely alleged that there are districts in the UK and continental Europe that are governed by Sharia law or "no-go zones" for non-Muslims. It appears that Trump, an avid Fox News viewer, has taken note.
The revelation was made by Chris Wilkins, ex-chief speechwriter to Theresa May, in an interview with Wales Online. He was in the room with the two world leader's shortly after Trump's January 2017 inauguration when Trump made his claim.
Wilkins said: "One of the things which he [Trump] said at the lunch and which the Prime Minister challenged him on was he made a sweeping statement about the UK's problem with Islamic terrorism...
"It was words to the effect that there were parts of Britain that were sort of overrun with [it]. He really does think that. He has a very simple perception of the challenge we have."
Interestingly, Wilkins' account of May's reaction contradicts the widely shared perception that she would have done and said anything to charm the US leader as she steered Britain towards the Article-50 process early last year.
She was famously photographed holding the 70-year-old's hand as they walked through a garden at the White House in March, which helped cement the image that Britain would seek close ties with the US at all costs as it exited the European Union.
But Wilkins' account suggests that behind closed doors at least, May was prepared to challenge her American counterpart.
"It was great to see the Prime Minister pick him up on it and challenge him on it," Wilkins said.
"I felt during my time in No 10 – particularly during the election campaign – one of my biggest frustrations was she didn't do enough of that," he added.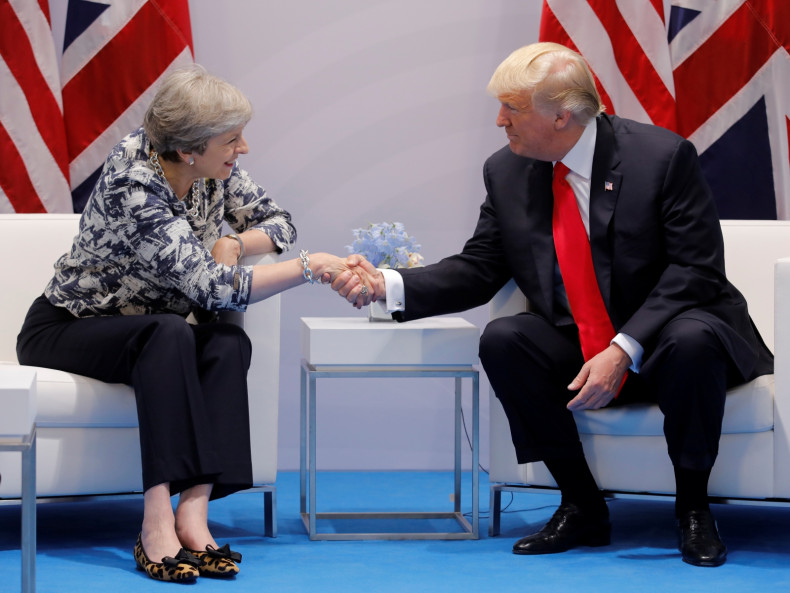 More recently, the British PM called out the 45th president publicly after he retweeted violent videos posted by Jayda Fransen, a leading member of the UK far-right group Britain First.
UK-US relations have soured since that denunciation and as a result of Britain's formal opposition to Trump's relocating the US embassy in Israel from Tel Aviv to Jerusalem.
The president was due to visit the UK next week but abruptly cancelled the trip on 5 January, leaving No 10 scrambling to arrange a informal meeting as soon as possible.
The Times reports that May's team will be hoping to catch him at the Davos conference, which begins on 23 January in Switzerland.