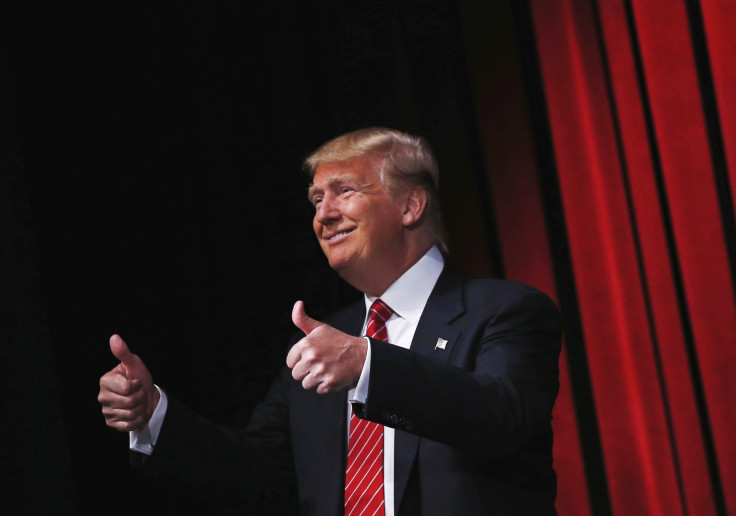 Outspoken Republican presidential candidate Donald Trump has had a busy weekend ahead of the first GOP debate for the 2016 election. Trump, who currently holds 19% of Republican primary votes in a new NBC News/Wall Street Journal poll, is the leading candidate in the crowded Republican field.
Days before the debate, Trump said he would not be "throwing punches" at his fellow candidates during the televised event. "I think I'm a nice person, I really do," he said during NBC's Meet the Press. "Frankly I'd like to discuss the issues. I am not looking to take anybody out to be nasty to anybody.
Here's everything you need to know about the real estate mogul turned politician before the first primary debate on 6 August.
Campaign fires advisor for racially-charged Facebook posts
Trump's campaign announced it had fired a campaign adviser after racially-charged Facebook posts under his name were discovered.
"Effective immediately, low level part-time consultant, Sam Nunberg is no longer associated with the Donald J Trump for President campaign," Trump's campaign manager Corey Lewandowski told the New York Times in a statement.
According to the Times, Nunberg had allegedly belittled the Reverend Al Sharpton's daughter with a racial slur in a 2007 post. Nunberg, an attorney, denied writing the posts to the Times. The former Trump aide was previously fired in 2014 when BuzzFeed published a profile mocking Trump. However, he was eventually rehired.
Trump-owned companies sought over 1,000 visas for foreign workers
On 31 July, Reuters revealed that several Trump-owned companies have sought to bring in at least 1,100 foreign workers on temporary visas since 2000. Data by the US Department of Labor showed that many of the applications were approved.
According to Reuters, nine companies sought to import foreign waitresses, cooks, vineyard workers and other labourers. Records also showed that two of the candidate's companies, Trump Model Management and Trump Management Group LLC, sought visas for nearly 250 foreign fashion models.
The revelations come as Trump attempts to promote himself as a key supporter of American workers. "I will be the greatest jobs president that God ever created," he said during his campaign announcement on 16 June. "I will bring back our jobs from China, Mexico and other places. I will bring back jobs and our money."
Trump has declined to comment on the Reuters report.
Trump says Joe Biden could 'maybe win' if he entered the 2016 race
During two interviews on 2 August with ABC New's This Week and CBS's Face the Nation, the Republican front-runner was asked to comment on reports that the vice president could enter the race for the Democratic presidential nomination.
Politico reported Trump said Biden would "have a good chance of beating" current Democratic front-runner Hillary Clinton, noting the scandals over her personal emails during her time as secretary of state could be a "devastating blow."
"She's got a big problem with the e-mails and, obviously, her numbers are going down drastically, so somebody like Biden could probably go in and do very well and maybe win," he said.
However, the reality TV star cautioned that Biden would not be "that effective as a campaigner." He added, "There's a lot of anger with respect to President [Barack] Obama, that would include Joe Biden, because nothing's been done."