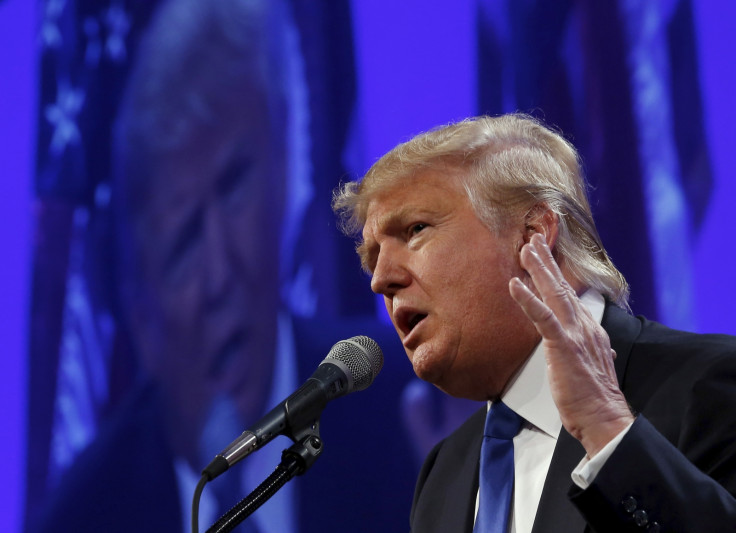 Republican presidential candidate Donald Trump is not backing down after a female lawyer accused him of having a "meltdown" when she asked for a break from a deposition to pump breast milk for her newborn daughter. Trump claims Elizabeth Beck wanted to pump in front of him and his lawyer, calling Beck "disgusting".
"She wanted to breast pump in front of me and I may have said that's disgusting, I may have said something else," Trump said to CNN on 29 July. "I thought it was terrible."
Beck said Trump's claims were "not true" and said she instead showed her pump to explain why she needed to take a break from the deposition. The attorney said she always planned to "pump in private."
"He completely lost it," Beck said to ABC News. "And he left, ran out of there and the lawyers were just standing with their mouths hanging open. He didn't return."
She added that Trump began to "shake, his face got really red, he pointed his finger and shook it and said, 'You're disgusting! You're disgusting!' Then he bolted and no one saw him again."
The incident was first reported by the New York Times.
In his interview with CNN, Trump went on the offensive, saying Beck was a "vicious, horrible person." The real estate mogul, who is dominating the Republican presidential field, told CNN that Beck is retaliating against him after losing that legal battle.
Trump refuted Beck's assertion that he got violent during the incident. "She made it up. She made it up," he said. "She's saying, 'Oh, he was so violent and he was so, so wild and she was afraid.' She was afraid of nobody. She's a tough killer in Miami everyone knows she's a killer. They all hate her."
When asked how the 2011 incident would reflect on how Trump would behave if elected and how he would act if challenged by Russian President Vladimir Putin, Trump responded: "Believe me, I'd do very well with him. I get along with people."
The reality TV star-turned-politician has faced a number of controversies since launching his presidential bid. Earlier this week, Trump's campaign was left to deal with the aftermath of comments made by one of his personal aides.
Michael Cohen was forced to apologise after he angrily told a Daily Beast reporter, "You can't rape your spouse." Cohen, a special counsel to Trump, was responding to allegations that Trump raped his first wife Ivana during a 1989 incident.