Donald Trump's threat to scrap F-35 jets could render the UK's new £6.2bn aircraft carriers useless
The US president-elect believes the F-35 stealth jets are too expensive, but the UK needs them for its new fleet.
Donald Trump's assertions that F-35 jets could be scrapped as they are too expensive could leave Britain with two useless aircraft carriers costing £6.2bn ($7.6bn). The Royal Navy are preparing to receive two new Queen Elizabeth-class aircraft carriers, with the first, HMS Queen Elizabeth, planned for sea trials in Spring 2017.
The design of the two new 65,000-tonne ships can only allow for the launch and landing of jets with short take-off and vertical landing (STOVL) capability. The only jump jet capable in production at the moment is the Lockheed Martin F-35, so if the project to build the jet was cancelled, plans to complete the building of the ships may also be halted.
The bombastic President-elect tweeted on Thursday (22 December): "Based on the tremendous cost and cost overruns of the Lockheed Martin F-35, I have asked Boeing to price-out a comparable F-18 Super Hornet!"
In response to the billionaire's Tweet, Luke Coffey, a former special adviser to defence secretary Liam Fox, told The Sun: "If the US cancels the STOVL variant of F-35, it would be an absolute betrayal of the US-UK Special Relationship."
The F-35 programme is reportedly regarded as the Pentagon's largest weapons project with the stealth aircraft designed to perform ground attack and air defence missions at speeds of up to 1,930km/h (1199m/h).
Time reported that the F-35 project has been one of the most expensive military projects in history, costing upwards of $1.45tn (£1.2tn).
In response to Trump's comment, Lockheed Martin Corp CEO Marillyn Hewson assured the property mogul that she would work to bring down the cost of the project.
"I had a very good conversation with President-elect Trump this afternoon... I gave him my personal commitment to drive the cost down aggressively," Hewson tweeted. "I know President-elect Trump wants the very best capability for our military at the lowest cost for taxpayers, and we're ready to deliver!"
HMS Queen Elizabeth is expected to come into service in 2020, and the second carrier HMS Prince of Wales is expected to enter service in 2021. It is estimated that the UK has already spent £2bn ($2.46bn) on the Lockheed Martin programme.
Earlier this month the last of Britain's Invincible Class aircraft carriers, HMS Illustrious (sometimes known as Lusty) left the UK en route to a Turkish ship-recycling company. The Illustrious was decommissioned in 2014, having served as a helicopter carrier after the Navy sold its Sea Harrier planes.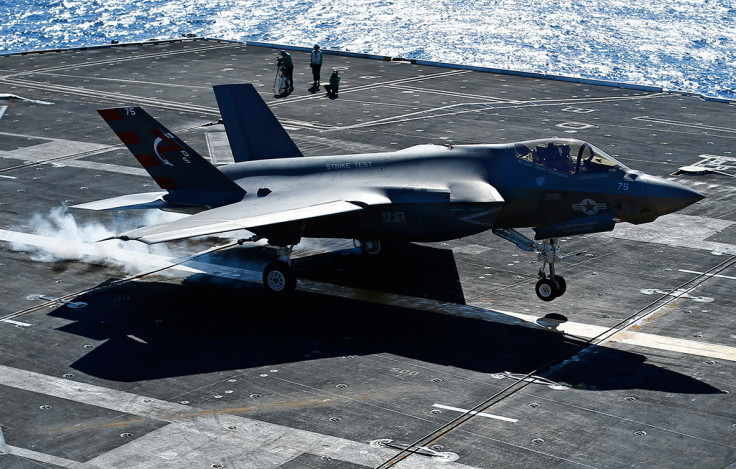 © Copyright IBTimes 2023. All rights reserved.