"If we do something, you will hear about it for sure" says Pussy Riot's Maria Alyokhina, tight-lipped about any planned action of her protest group between now and the presidential election taking place in Russia in March 2018.
That ballot, which she describes as "fake", is expected to consolidate the tenure of Vladimir Putin as president at a time when the international community is tussling with its relations with Russia that are frostier than a Moscow winter.
Alyokhina told IBTimes UK that the role of the Pussy Riot collective is to continue to agitate against the Kremlin domestically and internationally through their actions, which at the moment are focused on keeping Russia's annexation of Crimea in the public consciousness.
Recently they were in Yakutsk, the Siberian city that is the coldest on earth, to support the Ukrainian filmmaker Oleg Sentsov who was jailed for 20 years for conspiracy to commit terrorist acts in Crimea, after the peninsula was annexed by Russia in 2014.
"During the investigation he (Sentsov) was tortured and sent to one of the hardest regions in Russia, so I think that that's how...that is one of the main key political cases in Russia now," she said.
"The war between Russia and Ukraine is still going and somehow because of many reasons, the Crimean situation is starting to be forgotten. It's totally wrong because it is one of the examples since the Second World War in European territory when one country annexed the territory of another."
As a 23-year old, she was jailed for performing a punk prayer in Moscow's Cathedral of Christ the Saviour with Pussy Riot in 2012. The stunt, which was opposed by many Russian Orthodox believers, was an opposition rallying cry against Putin's regime that was heard across the world.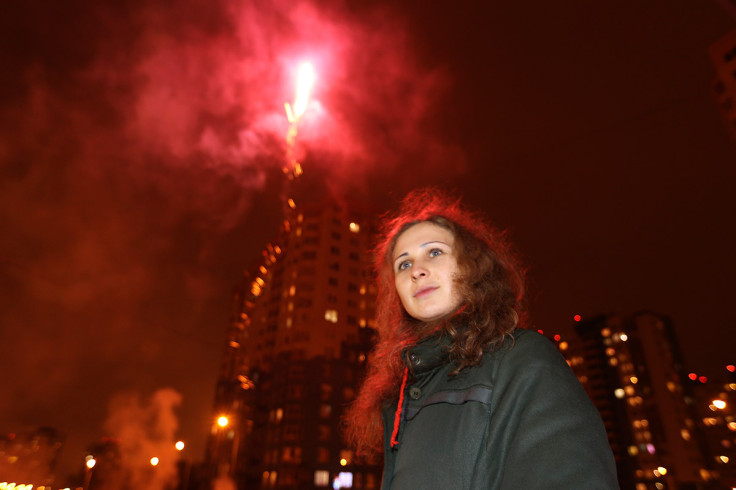 But Russia has changed a lot since then. As well as Crimea; Russian involvement in the Syrian conflict and claims of cyber hacking and interference in foreign elections, have been focusing the international community's mind on Kremlin foreign policy. Is the prospect of Russia's internal restrictions at risk of taking a back seat to global concerns?
"I do not separate foreign policy from domestic" she said, adding that European countries needed to be aware of the foreign policy of Russia's security services because "they use methods which are probably not known yet here yet".
"I think that it should be less business interests in the meetings and talks with Putin, and (there should be) more focus on the matter of human lives because this is the base of European civilisation."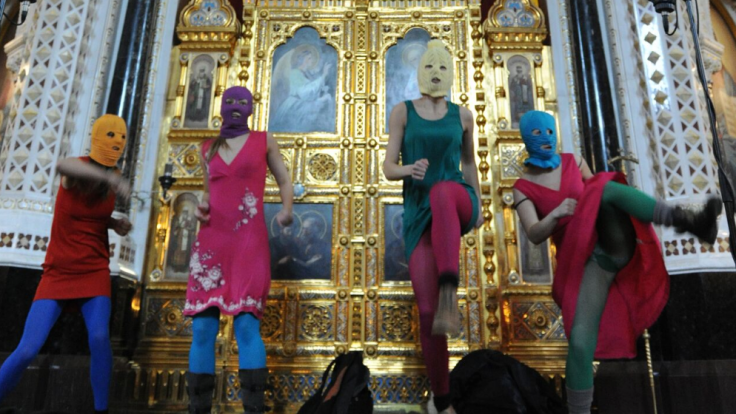 The sentences meted out to her and Nadezhda Tolokonnikova surprised even their harshest opponents. It was those two years in a penal colony that inspired the immersive theatre experience called 'Inside Pussy Riot', which features in an exhibition at London's Saatchi Gallery, titled Art Riot: Post Soviet Actionism and runs until 24 December.
Using quotes describing the pair's incarceration, the images and slogans draw on the 'agitprop' tradition spawned in the Soviet Union, whose creation's centennial this year is an appropriate time to reflect on the concept of the artist as dissident.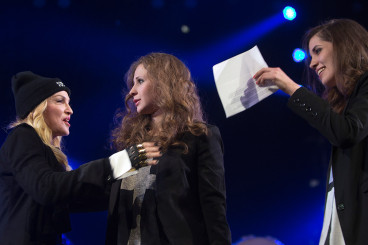 Also on display at the Saatchi Gallery is the performance art of Oleg Kulik and pieces by Pyotr Pavlensky whose eye-watering works include images of his setting fire to the doors of the former KGB headquarters Lubyanka, and nailing his scrotum to the floor of Red Square.
Pussy Riot appear to be agitators rather than opposition figures but they could play a role in the lead-up to the presidential election whose sole opposition figure appears to be TV personality Ksenia Sobchak if anti-corruption campaigner Alexey Navalny is, as expected, ruled out.
"Each voice is important but we should remember there are no elections in Russia, they are fake. I admire anti-corruption investigations Navalny has been doing for the last 10 years...but I think that each activist who is working in the field this is important," she told IBTimes UK, adding that regarding their actions "we must not stop".