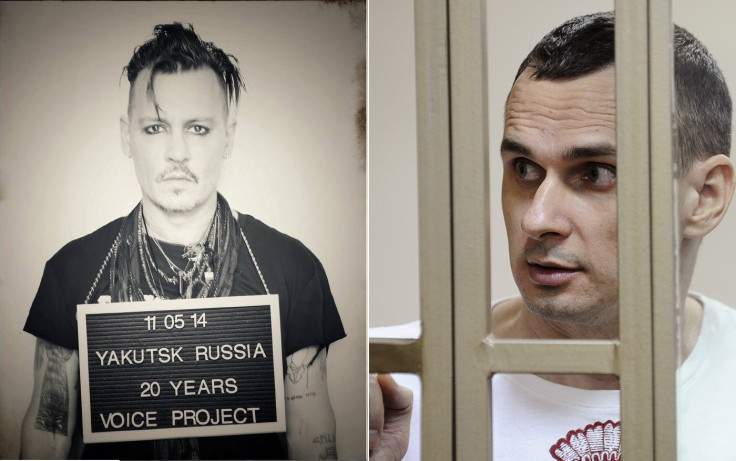 Johnny Depp has lent his support to jailed Ukrainian film director Oleg Sentsov as part of a campaign by celebrities to raise awareness about political prisoners.
In the Voice Project campaign Imprisoned for Art, Depp is pictured as a defendant with a plate on his neck of Sentsov's capture in Crimea in 2014, the place of his imprisonment, the Siberian city of Yakutsk and the length of his sentence, 20 years.
Sentsov directed the feature film Gamer but stopped work on a new movie and helped with the relief effort for Ukrainian soldiers, who had been blockaded inside their bases by Russian troops, before his arrest.
He was jailed in August 2015, along with his co-defendant Alexander Kolchenko, accused of planning terrorist acts in Crimea after the peninsula was annexed by Russia.
Sentsov said he had been tortured and he was jailed even though the main prosecution witness recanted in court. Amnesty International described the trial as "fatally flawed" and akin to the "Stalinist-era show trials of dissidents."
Other major celebrities joined the campaign, including former prisoner Nadezhda Tolokonnikova of punk rockers Pussy Riot, supporting Turkish Kurdish singer Nudem Durak and Peter Gabriel who wears a placard for Swedish-Eritrean journalist and author Dawit Isaak.
Hunter Heaney, co-founder of The Voice Project, said the campaign aimed at "making things uncomfortable for the administrators directly in charge of them at prisons, or higher government officials."