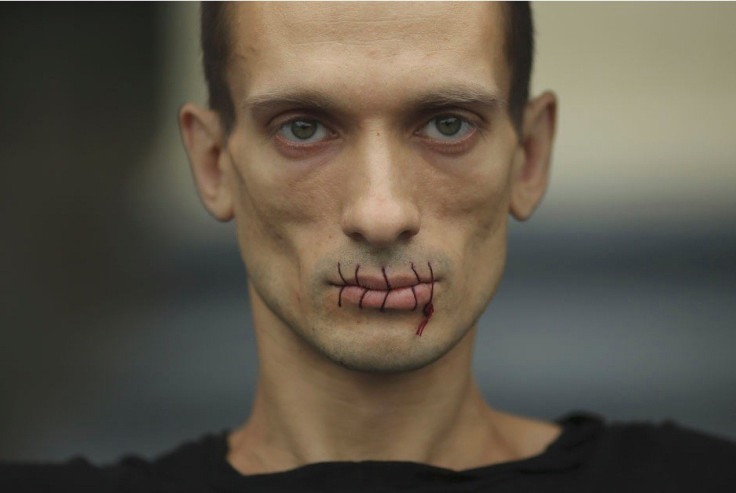 A Russian artist known for his controversial performances opposing President Vladimir Putin's rule said he was seeking political asylum in France after being investigated for sexual assault in Russia, the Associated Press reported.
Speaking to an Ukrainian news channel on 16 January, Pyotr Pavlensky said he and his partner Oksana Shalygina and their two children were stopped and interrogated at Moscow's airport, where he was told he was facing rape charges. He was told not to leave the country. Instead, he drove with his family to Ukraine and from there they flew to France.
The news of the rape charges was confirmed by a spokesman for the Investigative Committee, who told Russian news agency Tass that the artist was being investigated for a possible sex crime. The charges were pressed by actress Anastasia Slonina, the Russian opposition newspaper Novaya Gazeta reported, after interviewing writer and producer Vsevolod Lisowki, who was familiar with the matter.
He told Novaya Gazeta the actress was invited to stay at Pavlensky and Shalygina's house in December. There, she claimed she narrowly escaped an attempted rape and was stabbed in her hands.
Speaking to Novaya Gazeta, Pavlensky confirmed that Slonina had been their guest, but rejected the accusations as a "fabrication" against him and accused the actress to be a spy for the police, although he was not sure what she could gain from it.
Pavlensky has had several encounters with law officials for his stunts. Most recently, he was arrested in 2015 on vandalism charges after setting fire to the headquarters of the Russian secret services FSB, in Moscow. He had previously been arrested in 2014 for a pro-Ukrainian stunt in St Petersburg in which he put up a barricade, burning tyres on the Tripartite Bridge, and in 2013 after he nailed his scrotum to the paving stones of Moscow's Red Square, in front of the Lenin Mausoleum, to protest Putin's government oppression.
In other political arts performances involving self-injury, Pavlensky sew his lips shut in protest against the detention of punk protest band Pussy Riot, wrapped himself in barbed wire outside Russia's parliament building, and cut off part of his ear in protest at the forced psychiatric treatment of dissidents during the Soviet era.