David Cameron turns 48 on 9 October but it looks like a birthday he will want to forget, as it is set to be marked by a massive defeat at the hands of Ukip's Tory turncoat Douglas Carswell.
Within hours of the Tories setting the poll for the earliest day realistically possible after the end of the party conference season, a poll by Tory peer Lord Ashcroft showed Clacton voters giving Carswell a 32-point lead over the Tories.
The survey followed another weekend poll that suggested Carswell was 44 points ahead on 56%, with the Tories on 24%, Labour 16% and the Lib Dems 2%.
It will take something pretty extraordinary to overturn that sort of lead and the Conservatives are clearly privately writing this one off. One senior Tory told IBTimes UK: "We're stuffed in Clacton and we should just accept it. If we put up a ferocious fight and lose anyway it will look worse."
Yet they still appear set to go through the motions of staging a huge campaign, throwing everything they have got at Carswell in a bid to at least limit the damage.
This time, unlike this year's Euro elections, it appears many more voters are making a positive decision to back Ukip rather than using the party purely as a protest vote aimed at the government and other establishment parties.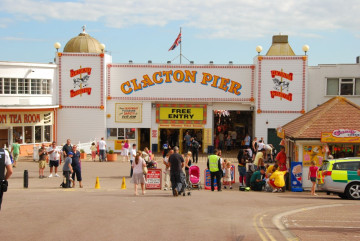 An astonishing 59% of previous Tory voters and 45% Labour voters said they were planning to switch to Ukip.
It also seems likely from the Ashcroft figures that, while his vote may drop, Carswell will retain the seat at the general election.
Part of the support is clearly for the man himself, with those surveyed suggesting he was a good local MP and a principled politician.
But there was also a large body of voters saying they were planning to vote for him because they approved of Ukip's policies.
Clacton was always a seat where Ukip might have expected to do well and there have even been suggestions Carswell jumped ship because he believed he was going to lose.
Either way, just a week after Cameron approaches a party conference hit by a serious outbreak of election jitters, he faces a savage defeat at the hands of the party that has the power to deny him general election victory.
So any traditional conference bounce the Tories may get from their Birmingham rally will be blown away even more quickly than usual.
The best the prime minister can hope for now is that, by the time of the by-election, the result will have been taken as read and come as less of a setback than it appears at the moment.
That, though, will be little clutching at straws at a time when the wider opinion polls show the two big parties stuck where they are, with Labour a thin 4% ahead, and no sign the economic recovery has started giving the Tories a lift.