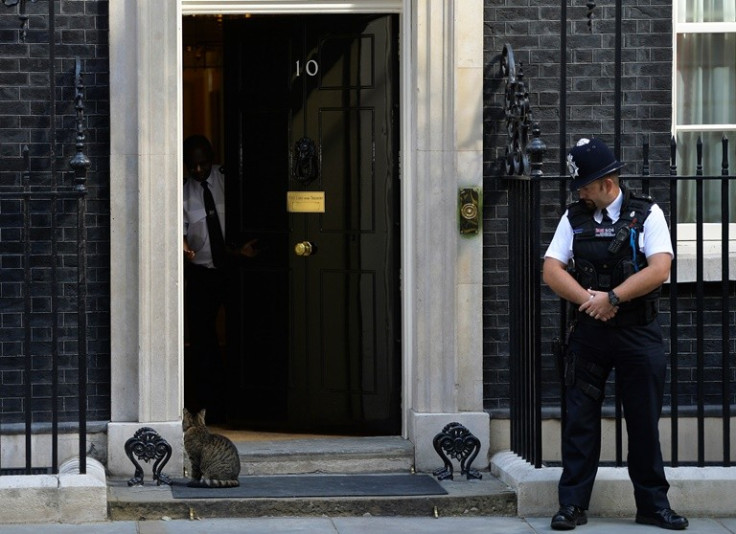 Downing Street has had a hissy fit at a new book that claims the Camerons are indifferent to Larry, the Downing Street cat, who was elected chief ratter in 2011 after a rat was seen scurrying across the doorstep during a live broadcast.
According to "In it Together", a new book by political commentator Matthew d'Ancona, Larry's important role at the heart of government is unappreciated by the Camerons, and he is in line for demotion following his inability to improve the rodent problem inside Number 10.
A spokesman said: "Totally untrue. He is very popular with everyone in the building and we all get on purr-fectly well."
However the opposition has seized on the contra-fur-sial claims.
Cumbrian Labour councillor John Burns tweeted: "Is there no end to David Cameron's victimisation of those who cannot speak up for themselves?"
Now a Twitter campaign - "savelarry" - has demanded the Camerons stop using Larry for PR purr-poses and leave him to get on with his job: catching mice.
Larry himself is even more scathing about his on-off relationship with the Camerons. In a recent Tweet he yowls:
"The Telegraph have an 'exclusive' that Cameron doesn't like me. The feeling's mutual."
Cameron, who has long denied representing fat cats at the expense of the electorate, may well feel the latest catty claims are un-fur. However insiders in Larry's department suggest he is feline insecure.
Cats have been part of the Downing Street fur-niture for decades, During the war the "Munich mouser" regularly got under Winston Churchill's feet when he was prime minister and Margaret Thatcher brought Humphrey into her kitchen cabinet in 1989. Spookily just a year later she was deposed from power, no longer the cats' whiskers of the Tory Party.
Humphrey himself remained at Downing Street until Tony Blair entered office in 1997, and when he finally disappeared rumours circulated that he had been despatched following a personality clash with Cherie - rumours the Blairs were forced to deny.
Humphrey's successor, Sybil, had a short and unhappy stint at Number 10, dying in mysterious circumstances during the equally brief tenure of Gordon Brown. Will Larry meet the same fate - or does he still have some of his nine lives left?