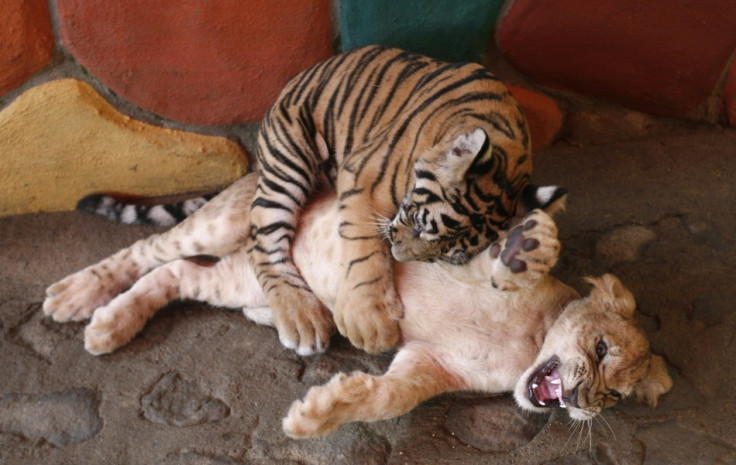 Troubled wildlife collector, Terry Thompson, 62, released 51 animals Tuesday October 18, out of the private Muskingum County Animal Farm near Zanesville, before ending his own life, forcing local authorities to set up an all-night game hunt, to track down the creatures.
Police said they received calls from panicked motorists, as animals were seen trying to cross highways, or even roaming near local residents homes.
Over the nights, authorities were forced to kill dozens of animals, with animal rights advocates acknowledging, there was little the local authorities could have done to save the potentially dangerous creatures.
"It's a tragedy for these particular animals, for no fault of their own they've been shot, and I can see how difficult that decision was for the police," Will Travers, chief executive of the California-based Born Free USA animal welfare and wildlife conservation organization, said of the last few days.
A total of 48 animals, including 18 rare Bengal tigers, six black bears, two grizzlies, a baboon, a wolf and 17 lions were shot by the Sherriff's deputies it was reported.
"What a tragedy," said veterinarian Barb Wolfe, of The Wilds animal preserve sponsored by the Columbus Zoo. "We knew that ... there were so many dangerous animals at this place that eventually something bad would happen, but I don't think anybody really knew it would be this bad."
On the other hand, three leopards, a grizzly bear and two monkeys were captured and taken to the Columbus Zoo.
"It's like Noah's Ark wrecking right here in Zanesville, Ohio, a Noah arch filled with a lot of lions and tigers and a few monkeys or whatever, and it crashes here. I don't know how else to describe it." Jack Hanna a celebrity animal expert and former director of the Columbus Zoo said.
After a wolf was found dead, reports suggested a monkey is the only animal possibly still unaccounted for.
Officers were ordered to kill the animals instead of trying to bring them down with tranquilizers for fear that those hit with darts would manage to escape.
"These animals were on the move, they were showing aggressive behaviour," Sheriff Matt Lutz said. "Once the nightfall hit, our biggest concern was having these animals roaming."
A veterinarian said she tried to save a tiger by using a tranquilizer dart, but the animal charged her then tried to flee and had to be shot and killed by sheriff's deputies.
"I was about 15 feet from him and took a shot, and it didn't respond too much, and I thought we were OK, but within about 10 seconds he roared and started toward me," she said.
Ohio has some of the U.S. weakest restrictions on exotic pets and among the highest number of injuries and deaths caused by them.
Born Free USA an animal advocacy organisation, says it has tracked 1,500 attacks on humans or other animals, and escapes by exotic animals since 1990, with 86 being in Ohio, and insist a change in legislation is needed.
The Ohio Veterinary Medical Association also called for exotic animal regulations and U.S. Rep. Dennis Kucinich of Cleveland called the deaths of the escaped animals preventable.
"By enacting more stringent restrictions on owning exotic pets in Ohio, tragedies like this one can be avoided in the future," he said in a statement.
"Legislation should be there to protect the animals from the people and to protect the people from the animals," he said.