DR Congo: M23 Rebels Advance South amid UN Impasse and DRC Army Chaos [SLIDESHOW]
M23 rebels conquer town of Sake and threaten to march on DR Congo's capital of Kinshasa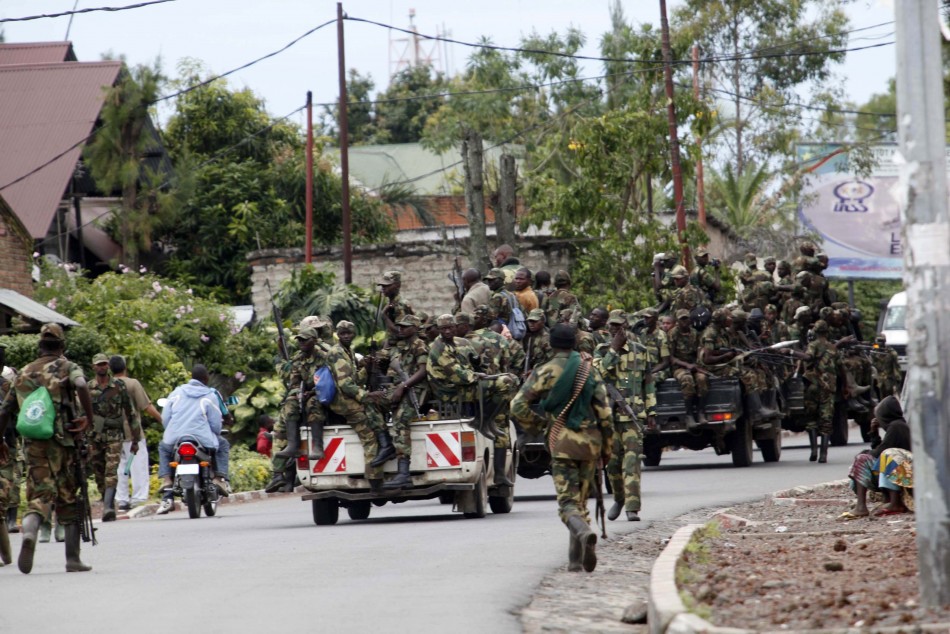 M23 rebels are advancing towards the city of Bukavu and said they will "liberate" the whole of Democratic Republic of Congo when they take the capital Kinshasa.
Rebel troops, said to be backed by Rwanda and Uganda, have taken the eastern town of Sake, 20km west of Goma, on the road to Bukavu.
"The journey to liberate Congo has started now. We're going to move on to Bukavu, and then to Kinshasa. Are you ready to join us?" M23 spokesman Vianney Kazarama told a crowd of thousands of people at a stadium in Goma.
Goma, a strategically important city near the Rwandan border and a gateway for the region's mineral resources, fell on Tuesday after rebels entered the city without opposition by the Congolese army or the 1,500 UN Monusco peacekeeping troops on standby.
UN troops do not have the mandate to fight but would "act in support" of Kinshasa troops, a Monusco spokesperson told IBTimes UK.
"[Peacekeepers] cannot substitute for the efforts of national forces," said UN spokesman Eduardo del Buey.
The Congolese army was said to be in chaos. "We are waiting for orders now. We don't know what we are supposed to do," said a Congolese army major who wanted to remain anonymous.
Monusco confirmed the rebels were advancing on Bukavu and said it had about 1,000 troops deployed in the surrounding region of South Kivu.
In Bukavu demonstrators protested against the government and the UN inability to contain the rebellion.
The headquarters of President Joseph Kabila PPRD party in the city were reportedly stormed by protesters.
Kabila was holding talks in the Ugandan capital of Kampala with President Paul Kagame of Rwanda and President Yoweri Museveni of Uganda.
The DR Congo government had refused to enter talks with the M23 saying it preferred "to negotiate with Rwanda, the real aggressor."
The three governments have jointly called on the M23 to "immediately stop [its] offensive and pull out of Goma".
The UN Security Council has also approved a resolution that demands the immediate withdrawal of the M23 from Goma, the cessation of any further advances by the M23 and that its members immediately and permanently disband and lay down their arms"
A UN report which leaked parts reportedly accused both Rwanda and Uganda of supporting the M23 is due to be published on Friday.
"The government of Rwanda continues to violate the arms embargo by providing direct military support to the M23 rebels, facilitating recruitment, encouraging and facilitating desertions from the armed forces of the Democratic Republic of the Congo, and providing arms, ammunition, intelligence and political advice," the report reads.