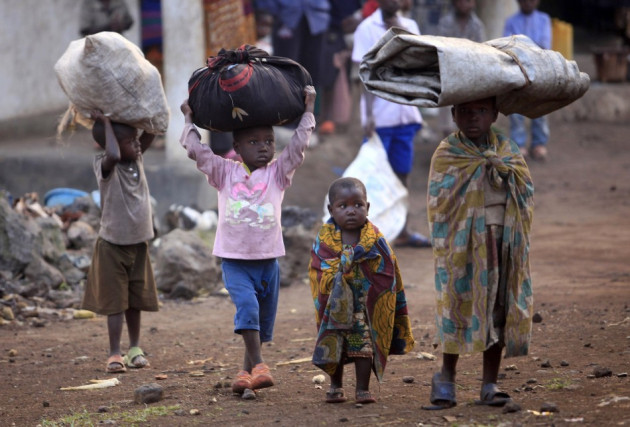 Lawlessness has reached alarming levels in the east of the Democratic Republic of Congo (DRC) with millions subjected to killing, kidnapping, rape and displacement, says aid agency Oxfam.
The long-running conflict in the region has led thousands of people to flee their homes and live a life of misery. Up to 500,000 people have been displaced by the conflict since April, according to Oxfam estimates.
"Close to half a million people have fled their homes in the past four months and a humanitarian crisis has descended into catastrophe," said Oxfam ahead of a regional summit on conflict resolution in the Ugandan capital Kampala, scheduled from 7-8 August.
DR Congo President Joseph Kabila and his Rwandan counterpart, Paul Kagame are expected to attend the summit. Rwanda was accused of providing military backing to M23, a rebel group led by renegade general Bosco Ntaganda.
The attention of Kinshasa in suppressing the M23, has resulted in no security presence in other regions of the east, giving ample opportunity for local militia groups to dictate terms to take control of the villages and towns.
"We have reached a new depth of misery in Congo's conflict when massacres go virtually unnoticed," said Oxfam's Associate Country Director Elodie Martel.
"Vast swathes of the east have descended into chaos with no government or security presence. People have been abandoned to killing, rape, looting and extortion. They are fleeing for their lives and very little is being done to help," Martel added.
The humanitarian consequences were huge as people were too afraid to go to the fields to farm or harvest their crops, according to the local partners of the charity. The fighting rebel groups often steal crops and impose illegal taxes on farmers and traders.
"We were working in the fields when we heard shooting and there were bullets around us. So we ran away with just the clothes on our backs - we have nothing," Jeanne, a refugee told the charity.
The region is also vulnerable to cholera risk and the chaotic situation is preventing delivery of aid, warns Oxfam.
Oxfam called for protection of civilians to be the foremost agenda at the regional summit.