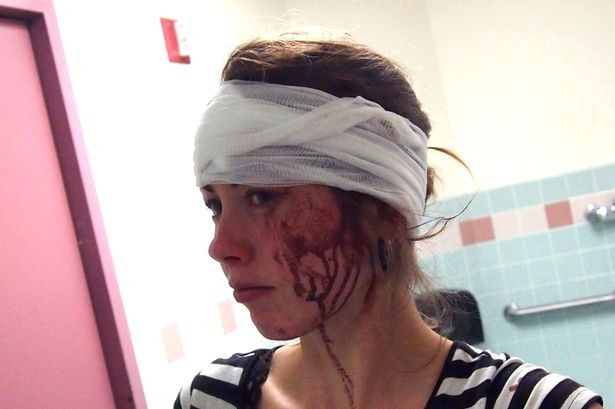 An innocent bystander injured during the Drake and Chris Brown fight in a New York nightclub may sue the brawling celebs for injuries.
The tourist, known only as Hollie, was caught in the crossfire when Brown and Drake's crews traded blows and threw bottles at each other at WIP nightclub.
The 24-year-old woman has filed a police report and said she was injured around the face and head.
She told celebrity site TMZ: "Within a few moments of noticing glass being thrown around, I saw a glass bottle headed towards me, consequently hitting me in the head. I immediately started to bleed and fell in and out of consciousness."
Hollie was one of eight people treated for injuries after the punch-up. She had to have 16 stitches.
After treatment, she said, "I had to take the subway home with no money or jacket. Nobody would even sit beside me. My friends were so scared because they did not know where I was."
A shocking picture of Hollie's blood-covered face is now making the rounds on the internet. A video taken on a mobile during the fracas has also emerged but the footage is too shaky to distinguish the protagonists.
Drake's agent has released a statement claiming that the star was not involved in the clash and was actually on his way out of the club when the altercation began.
"Drake did not participate in any wrongdoing of any kind at WIP. He was on his way out of the club when the altercation began.
"He did not engage in any activity which resulted in injury to person or damage to property."