Dramatic video footage has emerged of the moment a vast cloud of ash from a volcanic eruption at Japan's 10,062 feet Mount Ontake rolled down the mountain, enveloping everything in its path.
One woman is known to have died in the eruption, with several missing and at least 30 seriously injured.
Police said at one point around 250 people were on the mountain, many of them coming to admire the autumn colour of the trees.
Now 41 people are said to be stranded on the slopes and will attempt their descent tomorrow (Sunday 28 September).
The dramatic video, shared on Twitter and Youtube, shows a group of climbers descending the slopes with the vast cloud above.
They are then swallowed up by the cloud and the ash can be heard falling all around them.
The cloud covered a two-mile stretch of the south slope in up to 20 inches of ash.
One woman told public service broadcaster NHK: "It was like thunder. I heard boom, boom, then everything went dark."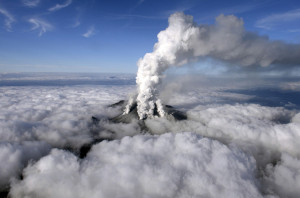 Local worker Mari Tezuka told Reuters: "It's all white outside, looks like it has snowed. There is very bad visibility and we can't see the top of the mountain. All we can do now is shut up the hut and then we are planning on coming down… This is a busy season because of the changing autumn leaves. It's one of our busiest seasons."
The eruption of the volcano, 150 miles west of Tokyo in Nagano and Gifu prefectures, caused disruption to domestic plane flights which had to divert round the cloud. International flights have not been reported as affected.
Japan's prime minister Shinzo Abe said the military had been drafted in to help.
"Nearly 200 people are in the process of descending the mountain, but we are still trying to figure out details," he said on arriving home from the United States. "I instructed to do all we can to rescue the people affected and secure the safety of the trekkers."
Mount Ontake, Japan's second-highest volcano, last erupted in 2007. Japan's Meteorological Agency has raised the volcano alert level to three, meaning more eruptions are likely.