Rebels in the Democratic Republic of Congo (DRC) have entered the eastern city of Goma after their ultimatum was rejected by the government in Kinshasa.
A spokesman for the M23 militants, Vianney Kazarama, said: "We already took the airport and part of the city. We are now inside the city of Goma."
Lt Gen Chandar Prakash, commander of the UN peacekeeping mission Monusco, which has 6,700 troops deployed in the North Kivu region around Goma, denied the airport had fallen under rebel control. He was contradicted, however, by unofficial UN sources.
According to the BBC, government troops had abandoned the city, although UN troops were still present.
"Monusco is keeping its defensive positions. They do not have the mandate to fight the M23. Unfortunately, the M23 did not obey the Monusco warnings and went past their positions [at the airport]. We ask that the Monusco do more," Congolese military spokesman Olivier Hamuli said.
"What has probably happened is that they've infiltrated the town in small numbers," Prakash said.
The M23 rebels - whose name is short for 23 March, the date of a historic peace treaty signed in 2009 - are also thought to be taking up positions on the road that leads from Goma to the southern city of Bukavu.
Both cities are a few kilometres from the border with Rwanda, whose government is believed to be backing the rebels.
On the outskirts of Goma, M23 troops stopped their advance and demanded that DR Congo's UN-supported government immediately demilitarise the city and its airport. The rebels also wanted the border opened with Uganda in the town of Bunagana. Kinkshasa rejected the demands.
"We prefer to negotiate with Rwanda, the real aggressor," DR Congo government spokesman Lambert Mende said.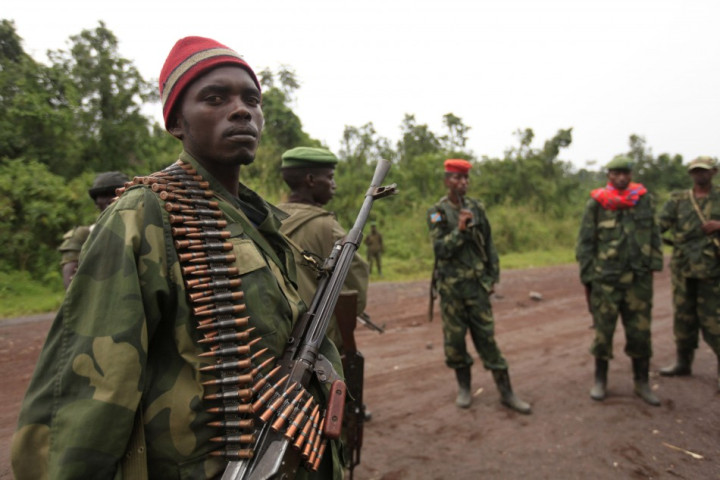 The March 23 movement
The M23 rebels are mainly former soldiers of the National Congress for the Defense of the People (CNDP). The majority of them are Tutsi survivors of the Hutu genocide in Rwanda in 1994.
The negotiations led to the 23 March, 2009, agreement that saw CNDP soldiers integrated in the Congolese army.
CNDP leader Gen Bosco Ntaganda, who is wanted by the International Criminal Court for war crimes, was among those who joined Kinshasa's military forces.
In April 2012, under his leadership, hundreds of ex-CNDP soldiers deserted the Congo national army claiming the government had failed to uphold the 23 March agreement.
Neighbouring Uganda said the escalating conflict was to blame on a UN report that wrecked peace negotiation efforts.
The report claimed the M23 was backed by both Uganda and Rwanda.
"Uganda was mediating in this conflict and we had managed to restrain M23. Then the UN comes up with these wild and baseless allegations against us and we decided to step aside and leave the situation to them and now you see the results," Uganda's junior foreign affairs minister Asuman Kiyingi said.