DRC and United Nations 'failing to arrest' FDLR rebel leader Sylvestre Mudacumura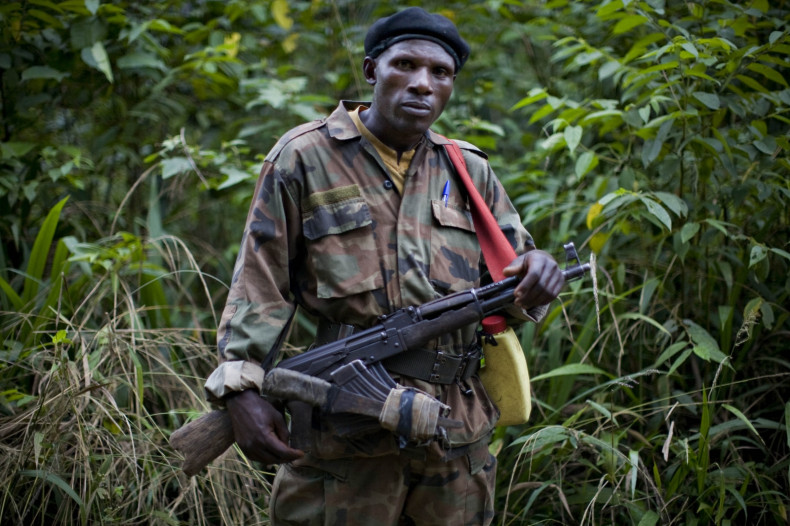 A human rights group has slammed the government of the Democratic Republic of Congo and the United Nations for failing to arrest rebel leader Sylvestre Mudacumura and transfer him to the International Criminal Court (ICC) in the Hague.
Mudacumura is the military commander of the Democratic Forces for the Liberation of Rwanda (FDLR), and the ICC has already issued an arrest warrant for the leader on nine counts of war crimes in eastern Congo's North and South Kivu provinces, including attacks on civilians, murder, mutilation, cruel treatment, rape, torture and pillage.
The FDLR, a largely Rwandan Hutu rebel group based in eastern Congo, has around 1,400 active fighters in 2015, according to the UN.
War crimes
Human Rights Watch (HRW) claims forces under Mudacumura's command continue to be implicated in serious abuses against civilians in eastern Congo.
"FDLR fighters under Mudacumura's command have been responsible for some of eastern Congo's worst atrocities, yet there has been little effort to arrest him," Kenneth Roth, executive director of Human Rights Watch, said.
"With Mudacumura at large, FDLR fighters have been committing horrific attacks against a long-suffering population."
In February, the Congolese army launched a military operation against the FDLR, known as "Sokola 2", which translates as"clean-up" in Lingala and Swahili.
Since the operation began, the Congolese army says it has captured over 250 FDLR combatants but it has failed to apprehend Mudacumura, who is believed to be hiding in the remote area bordering North Kivu's Walikale and Lubero territories.
In April 2013, the US government announced a monetary reward of up to $5m (£3.1m) for information leading to his arrest, transfer to justice, or conviction as part of its War Crimes Rewards Program.
Hundred of civilians killed
FDLR fighters have killed at least 94 civilians, raped dozens of women and girls, forcibly recruited children into their ranks, kidnapped people for ransom and destroyed a large number of homes since 2012 when the ICC arrest warrant was issued, according to new research by HRW.
Those who have sought to expose and denounce the FDLR's continued crimes have also been killed, tortured or otherwise threatened.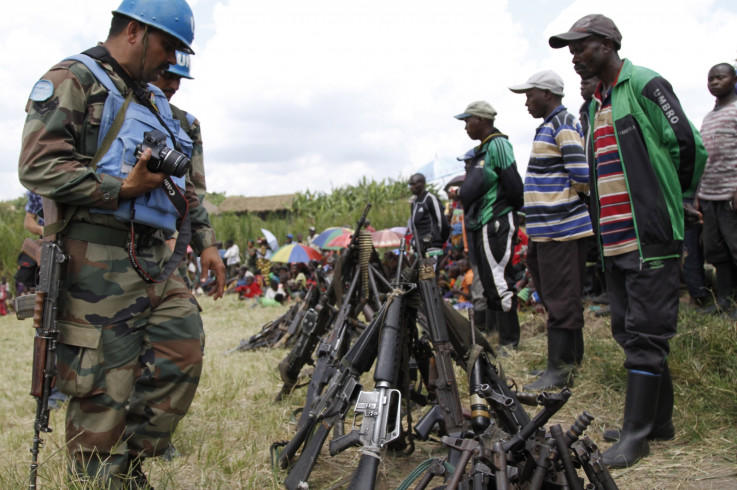 United Nations peace keepers record details of weapons recovered from FDLR militants after their surrender in Kateku in eastern region of the Democratic Republic of Congo (DRC) on 30 May 2014
REUTERS/Kenny Katombe
In one incident on 12 January in Ruhanga, Masisi territory, FDLR fighters killed a school director and his teenage son, whom they accused of having given information about the FDLR to government officials.
Their bodies were later found decapitated, with their heads on sticks.
"Mudacumura's arrest is critical to ending attacks on civilians in eastern Congo and would advance international justice," Roth said.
"Whether it's Sudan's President Omar al-Bashir or the FDLR's Mudacumura, no one wanted on an ICC arrest warrant should ever think they are safe from arrest."
The ICC has sought Mudacumura only for alleged crimes committed between January 2009 and September 2010, when the Congolese army, together with the Rwandan army and later with support from the UN peacekeeping mission, waged a military campaign against the FDLR.
Who are FDLR fighters?
A largely Rwandan Hutu rebel group based in eastern Congo
Some of its leaders participated in the 1994 genocide in neighbouring Rwanda before the group's inception in 2000
UN estimated the number of fighters to be around 1,400 active fighters in 2015, compared with 6,000 in 2008
Between January 2009 and September 2010, HRW documented the targeted killings of over 700 civilians by FDLR fighters - many of whom the rebel group was "punishing" for alleged collaboration with its enemies
Victims were hacked to death with machetes or hoes or burned to death in their homes
UN experts say Congolese army officers have shared in the spoils of the lucrative mineral and charcoal trades in which the FDLR is involved
Congolese government and UN forces laucnhed new military operations against the FDLR in late 2013
FDLR's political leadership announced its fighters would voluntarily surrender beginning 30 May 2014, after which date an estimated 300 mostly low-level FDLR fighters surrendered