Drones are fast becoming the hottest new toys to play with, or even use to build a business, but there's a lot of confusion around drone flying regulations as they have only just been proposed by the House of Lords in March 2015.
There are designated no-fly zones already in operation for aircraft, but it's still unclear as to where exactly civilians can fly their unmanned aerial vehicle (UAV), so we consulted the experts.
Here is the IBTimes UK guide to where you can and cannot fly a drone in the UK.
---
What is a no-fly zone?
---
In the UK, there are several types of airspace in which you cannot fly a drone, and these are known as "no fly zones".
Controlled Airspace: You cannot fly aircraft at airports, aerodromes or in the areas surrounding these places.
Prohibited Areas: These are areas where the government has prohibited any type of aircraft from entering the airspace, and the reasons are mostly not public.
Restricted Areas: Aircraft are not allowed to fly over restricted areas such as prisons and nuclear power plants.
Danger Areas: There are areas in the UK that are set aside for military weapons or pilot training, as well as the testing of military technology such as GPS jamming exercises.
---
Where can I definitely not fly my drone?
---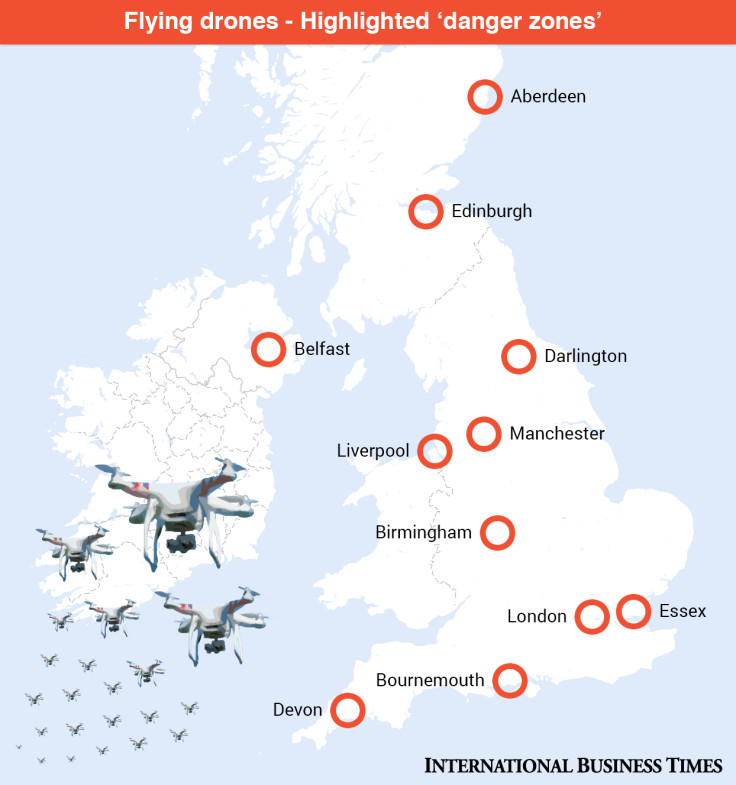 There are 28 airports in UK, with four in London, while the rest are located in Manchester, Hounslow, Birmingham, Bournemouth, Devon, Essex, Finningley, Hampshire, Leicestershire, North Somerset, Norwich, Paisley, Liverpool, Rochford, Woolsington, Luton, Yeadon, Prestwick, Aberdeen, Aldergrove, Belfast, Rhoose, Highland, Darlington, Edinburgh, and Trevarrian.
If you live in or near any of these locations, then a lot of the surrounding areas will be part of controlled airspace, so for example, the Leeds Bradford International Airport is located in Yeadon, but controlled airspace for the area also covers Leeds, Bramley, Pudsey, Farsley, Shipley, Guiseley, Otley, as well as parts of Bradford and Morley.
As for restricted and danger areas not covered by controlled airspace boundaries, you should also avoid the following areas:
Parts of Swingate in Dover; Shoeburyness in Southend-on-Sea; Roxwell in Chelmsford; Henlow; Sandy Heath; Chedburgh; Mendlesham near Debenham; Beccles; Neatishead near Stalham; Bacton near North Walsham; parts of King's Lynn; parts of Wisbech; part of Glinton near Peterborough; parts of Waltham in Melton Mowbray; Harby; Langar and Barnstone near Cotgrave; Shepshed in Loughborough; Thoresby near Edwinstowe; Meden Vale in Shirebrook; parts of Maltby; parts of Harworth in Bawtry; Rossington on the River Torne; the Drax power station in Camblesforth; parts of Riccall; Strensall near Haxby; RAF Fylingdales in the North York Moors; the Bilsdale broadcasting transmitting station in Bilsdale near Helmsley; Otterburn in Rothbury; Bewcastle in Cambria (due to RAF Spadeadam); Barry Budden in Angus; Glenrothes in Fife; Shotts in Lanarkshire and RNAD Coulport in Argyll.
To check which specific towns are no-go for UAV flying, check out the interactive map at No Fly Drones.
---
Where can I fly my drone?
---
While there are some locations in the UK where you cannot fly drones due to safety or busy airspace, you can fly your drone if you follow the guidelines set out by the Civil Aviation Authority (CAA).
UAVs have to be flown at least 50m away from people, vehicles, buildings or structures, and they cannot be flown over groups of people at any height. You also have to make sure that you keep the drone within your line of sight, and you have to bear in mind the existing privacy laws in the UK.
"The privacy law says that you can't go up and peep into people's windows, so what applies to people on foot equally applies to drones as it's the same law," Baroness O'Cathain, chair of the House of Lords EU Committee told IBTimes UK in March when drone regulations were proposed.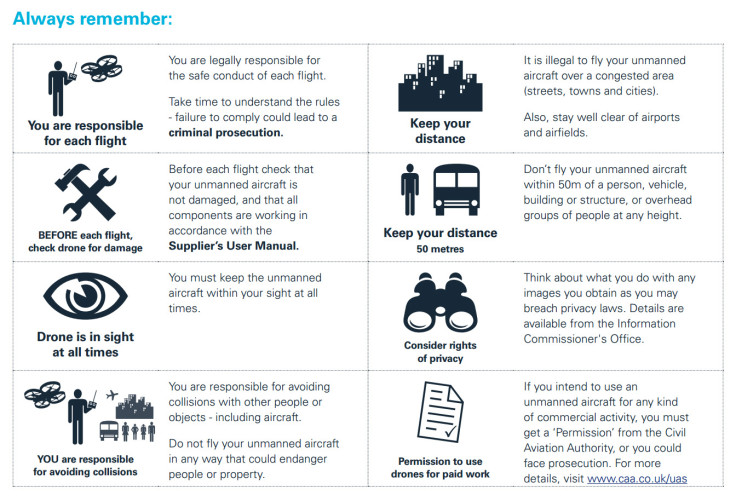 A CAA spokesperson told IBTimes UK: "People using drones should apply common sense when thinking about where to fly their devices. It is clearly irresponsible to fly any kind of drone close to an airport or in a town centre, for example.
"Users should take a good look around at their environment before each and every flight. If any potential exists for conflict with other aircraft, people, vehicles or buildings, then users should try somewhere else. Drones are subject to aviation rules and regulations and anyone breaching those rules can be prosecuted."
---
Green spaces, gardens and fields
---
Essentially, the best thing to do would be to stay as far away from built up areas as possible, so wide green spaces like parks would be ideal.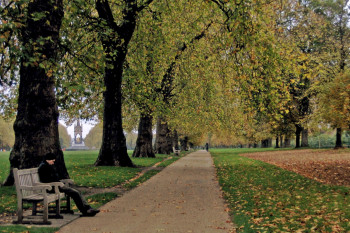 However, if you are planning to fly your drone in a park in a city, be sure to check the guidelines for those parks first. For instance, you can't fly UAVs in the Royal Parks in London due to concerns about terrorism.
If you live outside London and not in any of the areas mentioned above, you might be able to fly your drone either in the wilderness, or in your back garden or a large field if it is big enough.
"In terms of flying drones in gardens or school fields, this can be permitted providing the user has full control and is operating them safely," the CAA said.
"Taking the school field example, the user would need to make sure they had full control and were not operating the drone within 50m of a building or over a large group of people. It's all about the user taking responsibility for making sure they are flying the drone sensibly and safely."