Unmanned aerial vehicles, or drones, are to become an ubiquitous part of life, with the commercial sector set to embrace the technology, and hundreds of millions of dollars likely to be invested in the space.
That's according to a panel of experts chaired by Mike Butcher, Editor of TechCrunch Europe, at the Web Summit in Dublin, Ireland, on 4 November 2014.
Ireland and the UK are "well poised to be the market leaders" because of the desire to gain a competitive edge over the US, the panel discussed.
We're familiar with the military drones and the spreading fad of consumer hobbyist drones, but commercial use is set to explode, and the development of these robotics will be even faster than the mobile revolution, predicted panel member Jay Bregman of 3D Robotics.
Drone use in the commercial space has been in the research and development phase for some time, and is currently being used in sectors such as agriculture, disaster response, inspection and survey.
Jonathan Downey of Airware spoke of how his company, with the backing of $40m (£25m) from amongst others, Google Ventures, are developing a platform for drones which will facilitate more widespread commercial use.
The platform, dubbed 'DOS for Drones' by TechCrunch's Butcher, is being developed with both regulatory compliance and insurance underwriting requirements in mind, ensuring it will be market ready for commercial use.
Airware have teamed up with NASA to develop an air traffic management system for the U.S. which will further ensure compliance with the relevant regulatory bodies, such as the Federal Aviation Authority (FAA).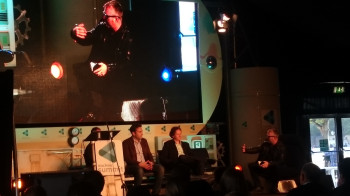 The challenges which these forward thinking developers must address before we see drones in widespread use commercially go beyond concerns around legal compliance, however.
Privacy and safety were highlighted as two of the most significant hurdles which must be leapfrogged in order to achieve the vision.
Aside from the fears of 'another 9/11' recent events involving drones have sparked concerns.
Just days ago, a commercial airline was involved in a near collision with a drone as it flew over Southend airport, Essex. Last month saw what was dubbed the 'drone brawl' during Serbia and Albania's Euro 2016 qualifier, which forced the match to be abandoned.
"There will be misuse" admitted Christian Sanz of Skycatch, but the consensus of the panel was that nobody in the industry wants this misuse, and will work to address the primary concerns. Such fears will not be enough to hold the drone revolution back.
According to the panel chair, there is an "absolute general acceptance that this is going to happen." With giants such as Amazon and Google getting involved in this field, it's a convincing argument.
There's one thing the panel would change though, and that's the name. "Drones is a terrible name", said Bregman. Whether or not he gets his wish remains to be seen.