The two British women being held in Peru on suspicion of drug smuggling have claimed they were forced at gun point to carry the cocaine.
Melissa Reid,19, from Lenzie, near Glasgow, and 20-year-old Michaella McCollum Connolly from Dungannon, Northern Ireland, were arrested in the Peruvian capital of Lima after police found more than 11kg (24.2lbs) of cocaine in their luggage, estimated to be worth £1.5m.
The pair, who deny the drug trafficking allegations, said they were forced to carry the bags containing the drugs by a cartel, who threatened to kill them and their families if they didn't.
The pair also said they did not know there were drugs inside the bags they were asked to carry.
Reid and Connolly were arrested in Lima after trying to board a flight to Madrid. It is believed they were planning to travel to the Spanish capital and then to Majorca.
Reid told the Daily Mirror: "We were given no option. If we didn't do as we were told we would be dead. We were not smuggling for money, we were smuggling for our lives.
"We have no doubt they would have killed us both without hesitation if we didn't do as we were told.
"Ever since I was arrested I have played out what has happened in my mind over and over again, asking myself how could we have gotten out of it. But each time I think it wasn't even an option.
"We both had loaded guns put to our heads. They were more than prepared to use them. If we didn't do it we were told we would die.
"They even had information about our families and said if we did anything, anything at all to escape or inform the authorities then our loved ones would be targeted too."
Catholic bishop Sean Walsh, who visited the pair in Lima, added: "They told me that there were a group of Colombians that actually took them at gunpoint and threatened them."
The pair were due to appear in court later, but the hearing has been postponed because they have yet to see an interpreter.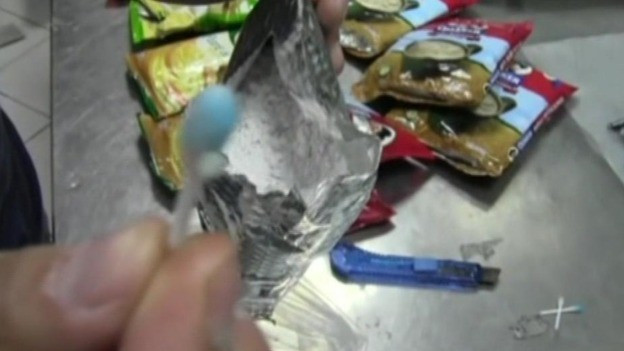 It was previously thought the pair had been living together in Ibiza since June. Reid has now claimed they did not meet each other until they were both separately kidnapped by the South Americans in Ibiza and taken to Majorca separately.
They were then sent to Peru one day apart from each other, after being forced to live in "safe houses" and monitored by the gangsters.
The two women believe they were handed to the South Americans after being snared by a British man in Ibiza.
Reid's mother said she had no idea her daughter had travelled to Peru. Connolly's family also launched a Facebook campaign to help find her after they were unable to contact her for nine days.
The National Police of Peru previously released a video of the women after their arrest. The footage shows Reid saying she was "forced" to carry the bags containing the drugs in her luggage. When asked by police if she knew if the bags contained drugs, she replied: "I did not know that".
Connolly's family solicitor has said the 20-year-old is finding it "difficult to cope" with her situation but is "optimistic" she will be proven innocent.