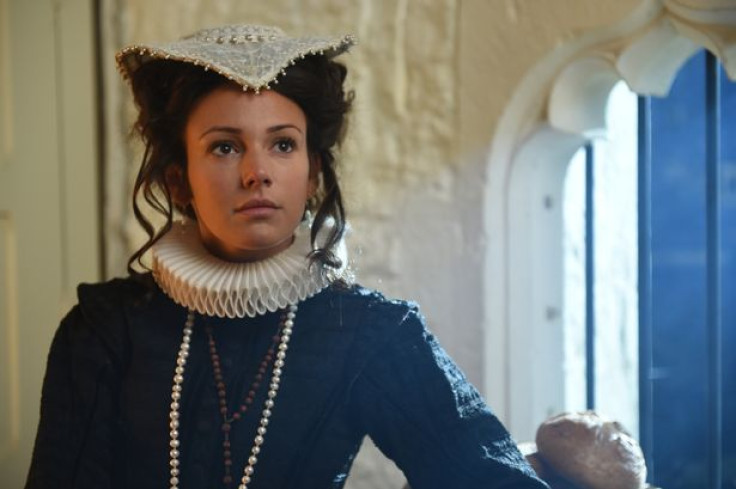 Michelle Keegan caused a stir with her one-off appearance on E4's Plebs last year when she indulged in her first on-screen sex scene, and "history" may be repeating itself with her latest TV offering.
The former Coronation Street star, 29, is playing another lusty character of the past as a licentious Queen, Mary of Scots for Comedy Central's Drunk History.
Keegan is virtually unrecognisable in the fun role as she sports a messy hairdo and looks a stark contrast from her usual glamorous self in Elizabethan-style clothing.
The show, narrated by Drifters stars Jessica Knappett and Lydia Rose Bewley, sees the Our Girl actress put on a flirty display as she charms and entices her male co-stars.
Depicting Mary, Queen of Scots as a rebellious royal, one scene shows Keegan having an affair with her secretary, with him kissing her cheek before her husband Lord Darnley walks in on the pair getting dressed. He's less than impressed over what he sees.
Another scene shows Mary plotting with Gilbert Gifford – played by Joel Fry – to murder Elizabeth I (Katy Brand) and Keegan kissing him on the cheek before he licks her lips.
In one clip from the episode, Mary – with a little help from Lydia and Jessica – tells Gilbert: "You look really fit, your calf particularly looks hot."
The narrators explain how Gilbert got Mary to write out a plan to overthrow Queen Elizabeth so that she could become Queen of England herself.
Her letter reads: "Dear GG, I love you. I think your plan is mint and I think Elizabeth should be knocked off the throne. She is a d**k."
Keegan – who left Corrie in 2014 to pursue other projects – has made a name for herself as a brilliant television actress, winning praise for her recent roles in Our Girl and Tina and Bobby.
Drunk History airs on Comedy Central tonight (15 March) at 10pm.