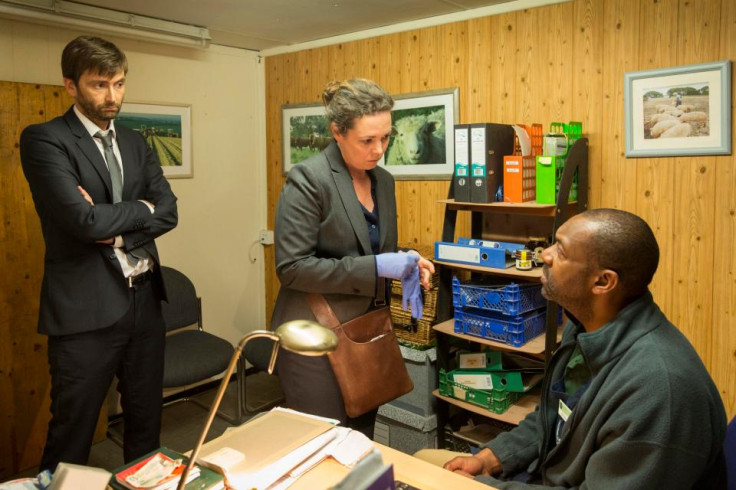 Broadchurch series three has impressed viewers with its harrowing storyline of Trish Winterman's brutal rape, which continues to send shockwaves through the quiet town.
Suspicions of whodunit casts a toxic cloud over the otherwise tranquil British setting, where many residents are woven together through years of friendship, acquaintance and trust.
The ITV thriller series saviours, Alec Hardy and Ellie Miller (played by the dynamic onscreen duo David Tennant and Olivia Colman) continue to investigate the crime and in Monday night's episode interview men who attended the 50th birthday party where Trish was attacked. Viewers at home will see another side to the suspects, which involve hurried meetings, sketchy glances and confusion.
Trish – acted by the brilliant Julie Hesmondhalgh – appears to be hanging on to a secret and is being menaced by someone we don't see, and her friends begin to doubt one another.
Despite knowing more information which could help the investigation, Trish is willing to co-operate as Hardy and Miller try their best to get her to talk.
Trish was attacked at Cath's (Sarah Parish) party and viewers will feel her distrust of her husband deepen. Other male guests including Trish's employer – farm shop owner Ed (Lenny Henry) – sound resentful about the situation.
The tiring interview process will uncover some revelations, however, including inconsistencies and lies as well as connections between Trish and some of the suspects.
A new trailer for tonight's show also reveals more clues ahead of the big reveal, as suspicions begin to fall on taxi driver Clive Lucas.
Broadchurch continues tonight (13 March) at 9pm on ITV.