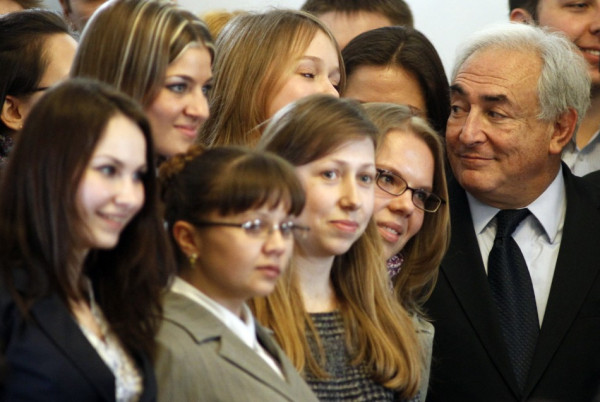 Former French presidential contender Dominique Strauss-Kahn (DSK) stood brazenly by French magistrates investigating his involvement in a suspected prostitution ring that operated out of the Hotel Carlton in Lille.
Transcripts of the interrogation, published by the daily conservative Le Figaro, depict a defiant, embattled DSK as he rebuts all allegations of licentious behaviour with skillful oratory.
Resorting to the use of legal jargon, bureaucratic cliches and witty turns of phrase, the former International Monetary Fund director denied knowing that money was given to young women who came to his "soirees libertine" at hotels in Washington, Paris, Lille and Belgium.
Libertinism (or debauchery) is a keyword here, as DSK has stressed on several occasions.
"At these types of evenings, the girls can be provocatively dressed, but that doesn't prove that they were prostitutes," he told the magistrate who asked him about young women at his parties who were dressed in a provocative, vulgar fashion.
"You must understand that libertinage consists in having free and consensual relationships. You may think what you want as far as morals are concerned, but the sex was not paid for."
DSK as Don Giovanni?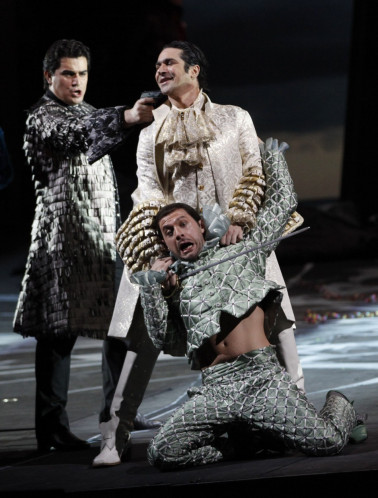 Seduction for the sake of it is one of the main principles behind libertinism, a noble tradition that dates back to Mozart's arrogant character Don Giovanni from the opera of the same name.
While the character Don Giovanni and DSK are both wealthy men who abuse power to satisfy their sexual proclivities, resulting in both of them at some point being accused of raping a maid, what is most striking about the resemblance between the two is their use of rhetoric to deceive, persuade and, ultimately, seduce that is both fascinating and troublesome in equal measures.
Italian writer Lorenzo Da Ponte wrote the libretto for Mozart's Don Giovanni, blending the best baroque oratory of the time with melodramatic elements. Don Giovanni himself is a frenzied, sexually promiscuous nobleman who must have every woman he encounters just for the sake of it.
Women for him are mere objects, a means to obtain personal gratification. The same applies to DSK. Reading messages between him and the four other men who were allegedly involved in the vice ring, the magistrates commented on how DSK referred to the young women who travelled with him as "material" and "baggage".
One of them said: "You seem to have little regard or respect for the young women, one of whom has told us that she felt like an object for purely sexual consumption."
DSK was slightly less confident and defiant after being told that a stripper-hooker named Jane had testified that she "did not go and sleep with Dominique Strauss-Kahn simply for pleasure". Justifying her remark, she made reference to both his age and size by saying: "First of all, he is old" and "He is stout".
The Appeal of the New

Another telling example of the kind of verbal sleight of hand that DSK used with French magistrates was demonstrated in a comment on newscomers. One of the girls had said DSK was very sexually active and was especially interested in new faces. "As to the first part," DSK replied, "that is her opinion. And it is true that the interest of libertinage lies in part on their novelty."
Then again, DSK rebutted accusations that his four associates, including two businessmen, a police commissioner and the son of a local politician, arranged 15 "bunga bunga"-style parties for his own benefit in Paris, Lille, Belgium and Washington.
"It was never apparent to me that they were for my benefit," DSK responded.
"But one of the friends states that while you were not the instigator, you were obviously happy to be involved," a magistrate said
"He is right to say that I was not the instigator, but I am always happy when my friends invite me to something," DSK replied.
Strauss-Kahn even became boastful about the age of his conquests, sometimes in their early 20s. "Do you think that if they had not been paid, they would have contemplated having sexual relations with you, taking into account the age difference?" he was asked.
"Many of the young women with whom I have been able to have a sexual transaction - sorry, the word is badly chosen - a sexual relationship, had the same difference in age," he replied.
He also said it was perfectly normal for a man like him to have regular sex with six women and that it was not "a considerable number".
Those on the French left may have already severed their ties with DSK, who was once considered the best Socialist candidate for this year's election before the scandal broke of him allegedly raping a hotel maid in New York.
But the ex-director of the IMF is far from relinquishing his right to be a libertine, even though it is likely to anger Socialist leader Segolene Royal, champion of women rights and former partner of Francois Holland, the winner in the first round of the French presidential election.