Duma arson attack: Israel arrests 'Jewish terrorists' over murder of Palestinian toddler and parents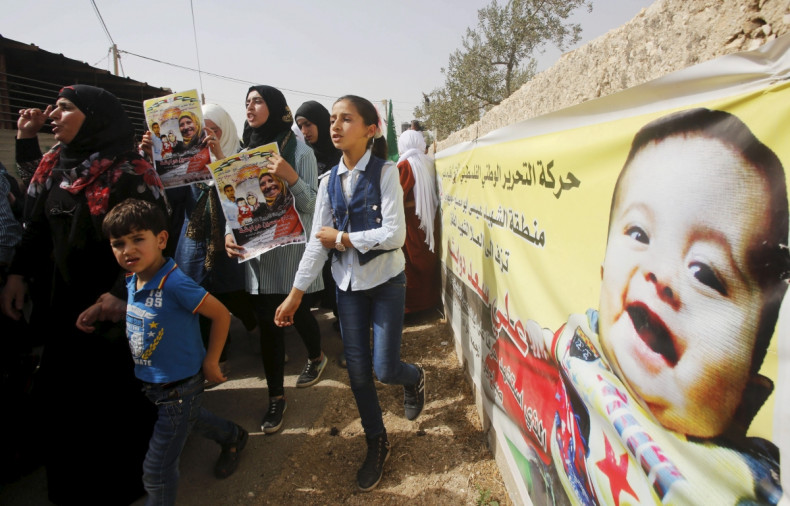 Israeli police has confirmed that a number of Israeli youths belonging to a "Jewish terror group" have been arrested in connection with last summer's arson attack on a Palestinian family that killed a toddler and his two parents. The arrests were revealed after a gag order was partially lifted. Names, number of suspects and other details of the case remained undisclosed.
The Shin Bet, Israel's internal security service, said several youths were detained for questioning in recent days over their connection to Jewish extremist organisations.
Haaretz newspaper reported that some suspects were identified in September but at the time charges were not filed. Following the arson attack, Israel extended the controversial system of administrative detention – which is usually applied to Palestinian militant suspects – to Jewish settlers.
The administrative detention allows Palestinians to be tried in secretive military tribunals with the prospect of being thrown in jail for months and even years without facing formal charges or trial. Israeli human rights group B'Tselem explains it "is not intended to punish the detainee for an offence that has been committed, but to prevent a future offence".
The application to Jewish ultra-nationalist settlers shows the right-wing government of Prime Minister Benjamin Netanyahu is under pressure to curb extremist attacks, which have intensified in the occupied West Bank in the past year.
The arson at Duma village, near Nablus, killed 18-month toddler Ali Dawabsheh along with his parents Sa'ad and Riham. His brother Ahmed is still in hospital in serious condition.
Though nobody claimed responsibility for the attack, graffiti scrawled on the walls reading "Long live the Messiah", "revenge", and "price tag" suggest associations with the far-right 'price tag' movement.
Netanyahu called the attack a terrorist act and vowed to catch the assailants. His security cabinet took the step to extend the administrative detention to Israelis as well "to take all steps necessary to bring those responsible to justice and prevent such attacks from occurring in the future", a statement said.
According to figures from the Israel Prison Service (IPS), 396 Palestinians from the West Bank, including one woman, are currently being held in administrative detention.