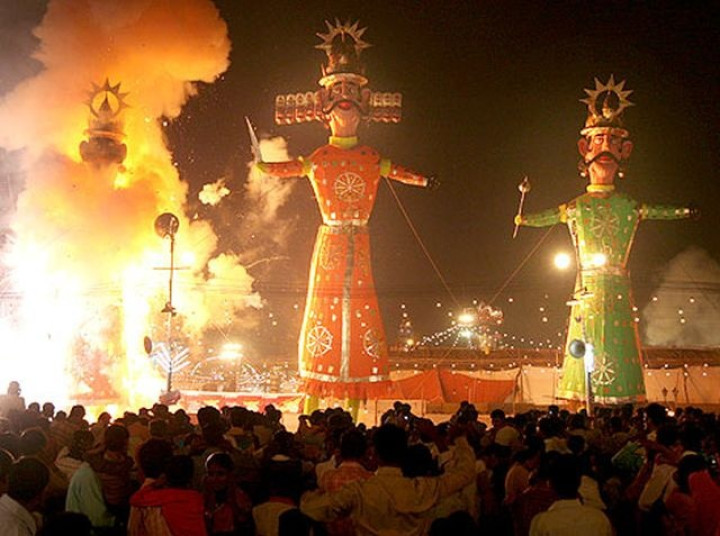 Happy Dussehra! One of the most important Hindu festivals, Dussehra signifies the victory of good over evil. This festival is also known as Vijaya Dashami, Dasara, or Dashain in many places India.
History
Dussehra celebrates Hindu god Rama's victory over the ten-headed demon king Ravana and the triumph of good over evil. The epic Ramayana tells the mythical story of Lord Rama who wins the lovely Sita for his wife, only to have her carried off by Ravana, the demon king of Lanka.
Observance and Celebration
Many people of the Hindu faith observe Dussehra through special prayer meetings and food offerings to the gods at home or in temples throughout India. They also hold outdoor fairs and large parades with effigies of Ravana that are burnt on bonfires in the evening. Dussehra is the culmination of the nine-day Navaratri festival.
Ramlila
Ramlila is a dramatic folk re-enactment of the life of Rama, ending up in a ten-day battle between Rama and Ravana, as described in the Ramayana.
The staged reenactment is an annual tradition that is performed in many parts on India during the festive period. One of the oldest and popular Ramlila in India is performed at the Red Fort, New Delhi, by the Lav Kush Ramlila Committee which was formed in 1979.
You can click here to watch the 2014 Ramlila live stream online. The event will commence today evening (October 3) at 7.00 pm IST/ 2.30 pm BST/ 9.30 am EDT.
Alternatively, you can also watch online the Ramlila which was performed on October 2, 2014 in Agra (Uttar Pradesh, India), below: