Far-right Dutch politician Geert Wilders is confident he will be able to put together a government coalition as his opponents will backtrack on their pledges of not working with him.
The controversial politician said in an interview to a Dutch TV channel he believes the other parties would not be wise to ignore the millions of people who are expected to cast a vote for Wilders' Freedom Party (PVV) in the upcoming elections on 15 March.
Prime Minister Mark Rutte took to Twitter using his personal account for the first time in five years to refuse the claims. "Zero percent [chance], Geert. ZERO percent. It. Is. Not. Going. To. Happen", he wrote, sharing a video of himself categorically refusing working with his rival.
A prolific Twitter user, much like US President Donald Trump, Wilders fired back in similarly punctuated fashion. He Tweeted: "It's the voters who are in charge of this country Mark, for a HUNDRED percent. And. Nobody. In. The. Netherlands. Still. Believes. You."
The anti-Islam, anti-EU and populist PVV party is currently leading in the polls, and he is forecasted to win around 30 of the 150 seats in the House of Representatives. While Wilders' party may prove the most popular he will still need to find allies willing to govern with him to form a majority in parliament.
This may prove a difficult task as most Dutch mainstream parties, including Prime Minister Rutte's centre-right VVD, have ruled out the possibility of working with him.
According to Wilders, all will be forgotten in the election aftermath. "In the first place, they'll have to," he said in the interview on 12 February. "You can't just shove two and a half million people aside after democratic elections, that would be very ill-advised."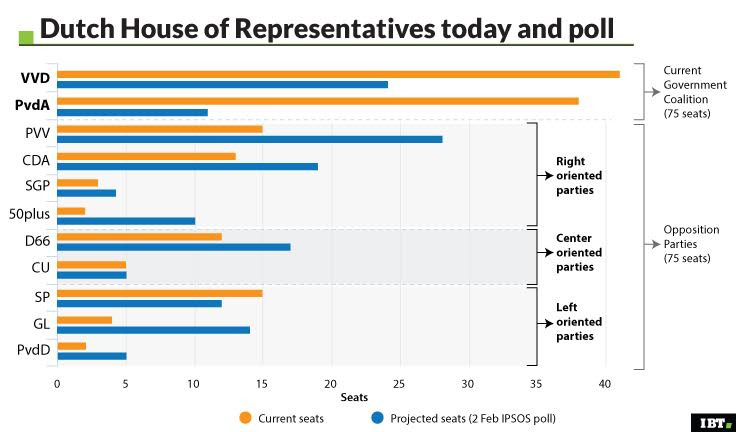 As the polls currently stand, at least three parties would need to come together to form a government coalition. But if Wilders' party was to be taken out of the equation, at least five parties would need to come together to secure a majority.
According to Wilders, this scenario is unlikely as the government would "be so unstable that not only will it not serve the country, but it will be lying on its ass within a year, to put it crudely," he said, as quoted by Reuters.
Wilders broke off from Rutte's party to create the PVV in 2006. He supported Rutte's minority government in 2010, when the PVV won 24 seats, but was responsible for the government's collapse in 2012, due to different views over budget cuts. Wilders' party lost support in the ensuing elections, currently holding 15 seats.
Wilders' attacks against the Muslim minorities in the Netherlands have earned him support among the far right – both in the country and abroad – but also a conviction for inciting discrimination in a hate speech trial in December. He was facing a €5,000 (£4,250) for having led supporters to chant "fewer, fewer" after asking whether they wanted more or fewer Moroccans in the country. While the judges decided not to enforce the pecuniary punishment, Wilders is still appealing the ruling.