The Netherlands is often viewed as a beacon of tolerance and liberal values. Progressive politicians have always done well in the nation which prides itself on inclusiveness, multiculturalism and pioneering social change with its legalisation of soft drugs, prostitution, euthanasia and gay marriage.
But progressives are set to take a backseat in the election on 15 March as far-right, Eurosceptic politician Geert Wilders claims the spotlight.
Wilders, who has been dubbed the "Dutch Donald Trump" by international media, is leading in the polls and is expected to win at least 28 seats (of total 150). The PVV's rise has divided the political landscape, widening the gap between the traditional left and right wing and paving the way for new populist and anti-establishment parties.
Will The Netherlands still be a tolerant, multicultural haven after 15 March? IBTimes UK reviews the key issues at stake in the Dutch election which will dominate the first debate on 8 February.
Immigration
Immigration is the defining issue this election, pushed to the forefront by Freedom Party (PVV) leader Geert Wilders who is calling for an end to immigration from Islamic countries and has promised a referendum on EU membership.
The PVV is calling for a five year immigration ban for everyone from Morocco and Turkey. Wilders has praised President Trump's leadership: "Finally America has a president who not only lives up to his promises but who clearly says 'the freedom of my citizens is more important than anything.'" He described Trump's approach as "a breath of fresh air compared with the dictatorship of left-wing parties." He even urged the US president to extend the ban to Saudi Arabia.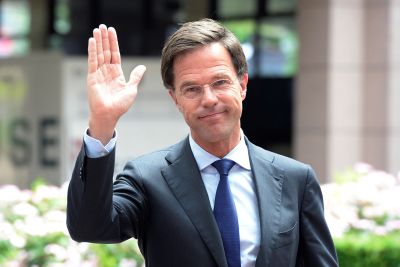 The VVD's immigration policy has veered to the right in recent times. Rutte has criticised Wilders in the past for scapegoating Muslims, arguing that "the solution is not to blame a group of people because of one person's actions". The Prime Minister was accused of emulating his opponent's rhetoric after he published an open letter telling immigrants who do not respect Dutch customs to leave. In his message, Rutte said that people coming to The Netherlands should adapt and integrate into Dutch culture. "I understand the people who think that if you so fundamentally reject our land, I prefer that you leave," he wrote. "As it happens I have that feeling too. Act normal or go away."
Wilders branded Rutte a "hypocrite" and a "liar", writing on Twitter that he was "the man of open borders, the asylum tsunami, mass immigration, Islamization, lies and deception." The letter sparked outrage on social media, with people criticising the Prime Minister for pandering to PVV voters.
Europe
Ukip's Nigel Farage suggested that The Netherlands would follow in the UK's footsteps and hold a referendum on EU membership. Wilders has made a Europe vote a central campaign promise and recently met with Marine Le Pen and other Eurosceptics to discuss breaking free from the EU. He envisaged a "patriotic spring" in Europe and said the time had come for "a democratic, non-violent political revolution."
The PVV is not the only party calling for a referendum. Populist party For The Netherlands (VNL) has adopted a Brexit-style "Take back control" slogan and promised a Nexit referendum. Not only the far right parties are in favour of distancing themselves from Brussels. The Socialist Party (SP) wants a less powerful European Commission and a referendum every time a country applies for Union membership.
How likely is a Nexit?
It will be difficult for Wilders to push through a Nexit referendum. Both chambers of the Dutch Parliament would have to be in agreement about changing the 2015 law which only allows for a referendum in the case of new legislation and treaties.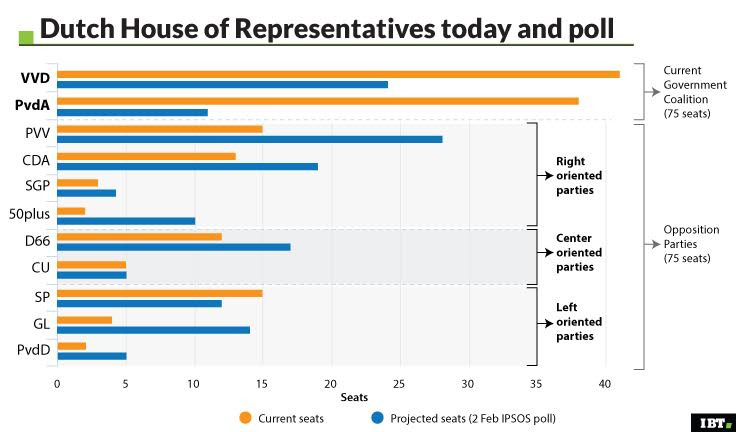 Healthcare
The two main parties also clash on the issue of healthcare. The VVD wants to increase health insurance premiums, while the PVV has promised to do away with them. After Rutte announced that the VVD will invest two billion in nursing homes, Wilders lashed out on Twitter, writing: "First take away money from elderly care, and then suddenly extra money? 1000 euros, no money for the Greeks: don't believe a word Rutte - King of the liars - says!"
SP leader Emile Roemer also criticised the Prime Minister, commenting on Twitter: "Who still believes Rutte?" The SP wants to replace the health insurance system with a national healthcare service. An Ipsos poll found that 57% of people are in favour of a state-controlled healthcare system, including 48% of VVD voters.
The Dutch population in 2016
With immigration and asylum policies expected to take centre stage in the debates leading to the election, here are some numbers about the country's population breakdown. It is worth noting that the Dutch bureau of statistics CBS, from which this data is taken, already offer a breakdown of the immigrant population in "western" and "non-western" categories. In Dutch, the word "allochtonen", meaning "coming from a different land" is used to refer to 1st and 2nd generation immigrants in contrast with "autochtonen", meaning "natives".
Total population: 16,979,120
Men: 8,417,135
Women: 8,561,985
Non-immigrant population in 2016
13,226,829
Immigrant population in 2016 (1st & 2nd generation)
3,752,291 (22% of total population)
Breakdown of immigrant population
Western countries: 1,655,699
Non-western countries: 2,096,592
- Morocco: 385,761
- Dutch Antilles & Aruba: 150,981
- Suriname: 349,022
- Turkey: 397,471
- Other non-western countries: 813,357