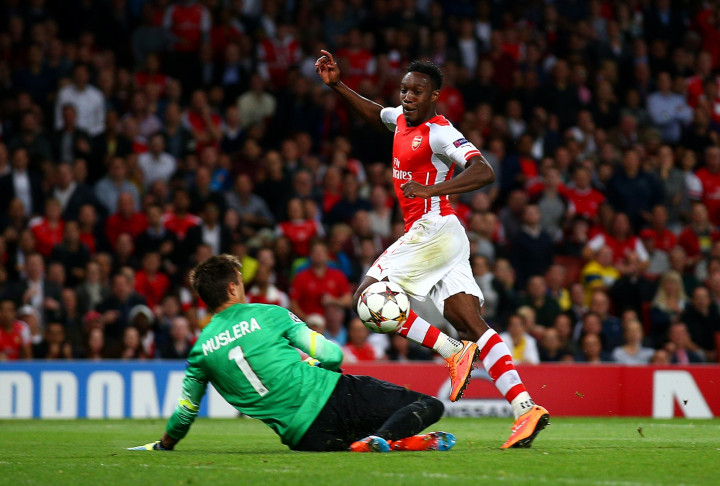 Dwight Yorke has hit out at Manchester United's decision to sell Danny Welbeck to Arsenal, branding his £16m fee a "disgrace".
Welbeck left Old Trafford to join the Gunners on transfer deadline day after United completed a season-long loan move for Radamel Falcao.
Van Gaal later claimed Welbeck had failed to prove himself as viable option up-front after three years in the first team when asked to explain his decision to sell one of the club's home-grown talents.
Yorke, who starred in United's treble-winning season in 1999, believes his former club should have only settled for a loan deal for the forward, or at very least demanded a fee closer to the £25m and £27m spent on Adam Lallana and Luke Shaw this summer.
"£16m – that is a disgrace," Yorke told Manchester Evening News. "When Lallana and Shaw have gone for £25m and £27m, that's pathetic.
"That is why I cannot understand the market. He had to be a loan deal – especially with Falcao not signing permanently.
"You could let Danny Welbeck go on a year's loan, get some money and have that option. He's worth more than £16m in today's market. Shaw and Lallana – are worth that much more than Danny Welbeck? I don't think so. Not with his pace and power."
Yorke's comments follow Welbeck's brilliant performance against Galatasaray on Wednesday 1 October where he scored a career-first hat-trick. The England international's record of just 29 goals in 142 games for United saw some raise doubts about his ability to effectively lead an attack but Yorke believes his new central role will see him address that disparity.
"How can you score wide left or right? He has never played all season up-front. He would get double figures. He's been deprived [of] goal-scoring opportunities. People don't understand that. You've got to practice to be in that position," Yorke said.
"He's a threat every time he plays. He's a threat to defenders. That's what you want. He's 23. Someone needs to give him that chance to win games.
"It's a specialised position. You don't get it from playing wide. That's a learning curve. I learned out wide before moving into the centre and Thierry Henry did the same. Then you get your position."