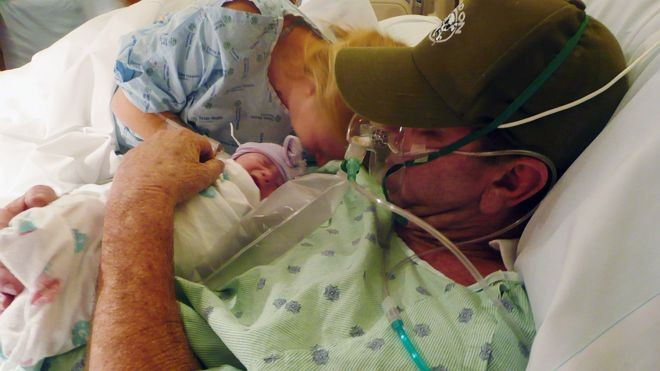 A US man was granted his dying wish to see his new baby after his pregnant wife was induced two weeks before her due date.
Mark Aulger from Texas, who had been battling colon cancer since April, told his wife Diane that he longed to see his child before he died.
Diane had her labour induced so she could give birth to their third child on January 18, two days after doctors informed her that her that her husband's condition was fatal.
Hospital staff arranged for the Aulgers to share a room so that Mark could witness the birth.
The 31-year-old mother told AP: "Mark said, 'I'd like to see the baby."
Diane says that following the birth of their daughter, Savannah, a weak Mark cradled her in his hospital bed and "cried, and he just looked very sad".
After slipping into a coma and suffering from complications related to his cancer treatment, he died five days later at the age of 52.
"I brought her home the night before he fell into the coma," says Diane, who lives outside Dallas. "It was just me and Savannah when he passed away."
"We're living day-to-day as if dad's still here. We know dad is here with us," she said.