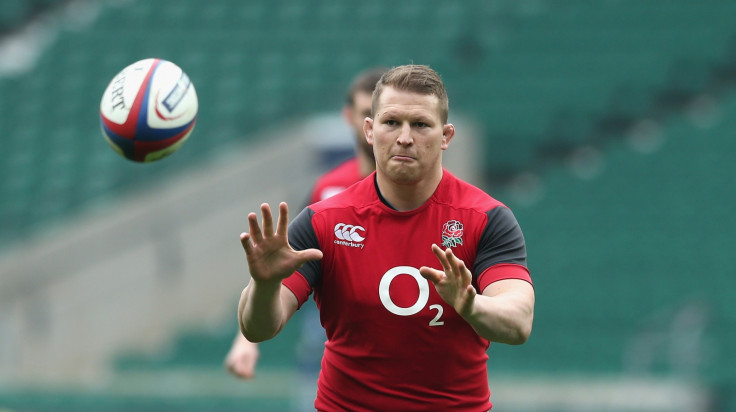 Dylan Hartley has been dropped from England's 50-man training squad ahead of the forthcoming Rugby World Cup after being handed a four-week ban for headbutting the Saracens forward Jamie George who ironically is now to replace him in the squad.
Northampton hooker Hartley, who has previously amassed 66 international caps and started all five of his country's matches during the 2015 Six Nations, clashed with George during the 59th minute of Saints' 29-24 Aviva Premiership semi-final defeat at Franklin's Gardens and was subsequently cited to appear at a Rugby Football Union (RFU) disciplinary hearing in Coventry on Thursday (28 May).
While it was concluded that such an offence fell within the low entry point for striking with the head given that his opposite number sustained no serious injury and the incident did not sway the outcome of the match, the suspension was nevertheless imposed after the three-man panel deemed the behaviour unacceptable.
With the ban slated to begin on 15 August, the 29 year old was in line to miss three warm-up tests against France and Ireland, as well as England's first World Cup fixture against Fiji at Twickenham on 18 September.
"We are obviously very disappointed with the situation that Dylan has put himself in and where that leaves us as a squad. I have spoken to him and he knows he has let himself and everyone down," head coach Stuart Lancaster said.
"If we selected him in the World Cup squad, he would have played no competitive rugby at all and we would be left exposed with only two available hookers in what is a specialised position going into the Fiji game. All it would take is one injury during the week of the Fiji game and we would only have one fit hooker in the squad for our crucial opening game and this would leave us massively exposed.
"In addition, the regulations also clearly state that in our World Cup squad we must have sufficient cover that is suitably trained and experienced in the front row in case of injury. This is clearly not the case if we begin the tournament with a suspended hooker and as such we have been left with no choice but to replace him.
"It also goes without saying that we need all our players to be able to control their discipline and make good decisions under pressure, the World Cup will clearly require this, and Dylan has not clearly displayed this in this latest incident. This is an area that he still needs to address."
On George's inclusion, Lancaster added: "Dylan will be replaced by Jamie George in the World Cup squad and will not be considered until the suspension is served. Jamie has obviously played well for Saracens this season and I'm sure will work extremely hard to take his opportunity."
New Zealand-born Hartley, a repeat offender who missed out on the British and Irish Lions tour to Australia in 2013, declared himself devastated with the circumstances surrounding his latest misdemeanour but offered his apologies and claimed to understand why he had been removed from contention in what is a crucial year for Lancaster's side.
"I am devastated with what has happened and the position I have put myself and the England team in," he said.
"I would like to apologise to Jamie, Stuart and my teammates both at Saints as well as England. What happened is not acceptable and I understand why this decision has been made."
Lancaster had already one lost one potentially important player for the World Cup before this. Earlier in May, Manu Tuilagi was reportedly made unavailable for selection until at least January 2016 after he admitted three charges of assault and one of criminal damage at Leicester Magistrates' Court.
The Tigers centre, sidelined with a groin injury for much of the 2014/15 season, was ordered to pay £6,205 in fines.