Dyson DC59 key features
V6 digital motor
Carbon fibre cleaning tool
26 mins battery life (6 mins on boost)
3.5 hour charge time
Dyson DC59 review
As a technology journalist it's not often you're asked to review a vacuum cleaner, but the Dyson DC59 is a bit different. Close to 1,000 patents went into its design - covering everything from the V6 digital motor, to the two-tier Radial cyclones - demonstrating Dyson's history of reinventing product categories through ruthless innovation.
Dyson's commitment to engineering excellence was recently summed up by Dyson design engineer Nick Schneider, who told IBTimes UK: "We're not about being adequate or satisfactory, we're about going beyond that."
So with this in mind, does Dyson's top-of-the-range DC59 cordless vacuum cleaner actually live up to the hype?
---
Dyson DC59 review: Design
---
The DC59 is recognizably a Dyson machine, with its cyclone housing and see-through chamber and floor tool showing off the inner workings. What separates it from more traditional Dyson vacuum cleaners is that it's designed to be held in the hand, cord-free. without compromising on performance.
To achieve this, it needs to be lightweight and manoeuvrable, while still housing a powerful motor and a big enough battery to not require constant recharging. The two heaviest components, the battery and the motor, are positioned either side of the handle, making it feel both flexible and lightweight.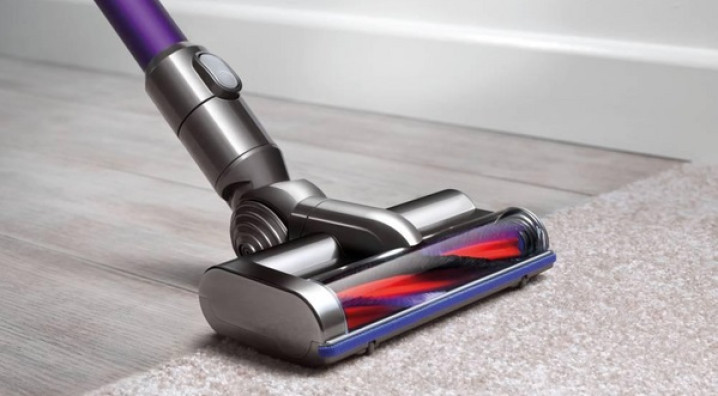 "We call it 360-degree cleaning, which means you can clean anywhere on a 360-degree axis," Schneider said.
The transparent chamber allows you to see all of the dust and dirt it gathers spinning around and lets you know when it needs to be emptied. To do this, a simple switch pops it open - the only issue is that it rarely falls out of its own accord. Instead, it requires either getting your hands dirty or utilising a small utensil to dislodge it.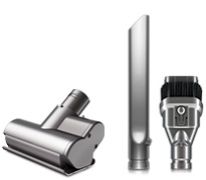 Fortunately, it's also relatively easy to remove and replace the chamber if you want to wipe it clean when it gets dust and dirt on the inside of the perspex chamber.
Dyson has previously claimed that this bagless design, combined with its removable and cleanable filter, will save users around £175 over five years.
One of the most useful features in terms of the machine's maintenance is the ability to take out the entire brush bar in case it gets tangled up with hair - or in my case headphones - to easily remove it.
A variety of other tools and attachments are included that snap in to place, either at the end of the wand or directly to the main device. They all click in easily but a slight looseness when in place detracts slightly from what is otherwise a completely solid design.
Finally, the "run-time enhancing trigger" helps to ensure power is only consumed when the machine is actually vacuuming, while providing the added bonus of making it feel like you're wielding a futuristic weapon.
---
Dyson DC59 review: Performance
---
By Dyson's own standards, the DC59 is the first cordless vacuum cleaner to match the suction capabilities of a corded machine. It achieves this through the powerful V6 digital motor. Around £150m went in to the development of this motor, which at 110,000rpm spins five-times faster than a Formula 1 car engine.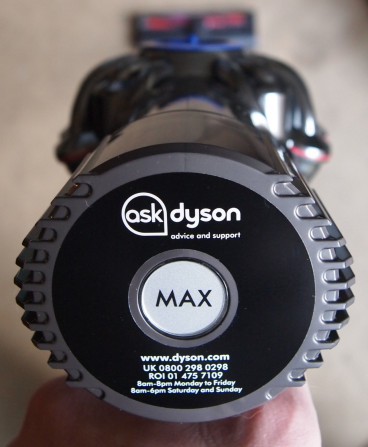 Considering this, it's perhaps not surprising that there were no real issues with picking up a mix of large debris (cereals and rice) and fine dirt (flour and sugar) from both hard floors and carpets. The motorised cleaning head contains a combination of nylon bristles for carpets and carbon fibre filaments for fine dust on hard floors.
The use of carbon-fibre also prevents static electricity from building up on carpets, which can cause dust to cling to floors.
To achieve its flexible and lightweight design, there have had to be some compromises, most notably with the DC59's battery life and relatively small chamber size.
A run time of 26 minutes is adequate for small or medium-sized flats or homes, however any more than two or three rooms requires the chamber to be emptied.
A 'Max' button is included on the rear of the machine for when the full power of the V6 motor is needed to be put to use, however using it cuts the battery time down to just six minutes.
Despite this short battery life, its performance in this mode is impressive. When I first received the DC59 review unit I had actually just done some vacuuming the day before. Wanting to test it out anyway I charged it up and set about the carpets with the Max button switched on. In one room alone I was able to half-fill the chamber from what I thought was a clean carpet.
---
Dyson DC59 reciew: Value and verdict
---
As with all Dyson products, premium design and performance comes at a price. The DC59 is currently the highest-priced cordless Dyson vacuum cleaner at just a penny shy of £350.
This relatively high price could turn people towards cheaper competitors, even if that means choosing a less powerful machine. The DC59's biggest competition could actually come from within the Dyson family itself, with the DC44 (£299.99) and the DC35 (£250) both offering capable but more affordable alternatives.
It says alot about the machine that rather than comparing it to its cordless counterparts, it should considered a rival of other corded machines on the market. The biggest downside here is that the DC59's limited chamber size and battery means it is not well suited for larger homes.
For anything else, however, its slim and lightweight design, ease of use, and powerful performance means it is not far off being the perfect vacuum cleaner - if you can afford it.