EA's download portal Origin is looking to challenge rival Steam by offering huge discounts on big game titles.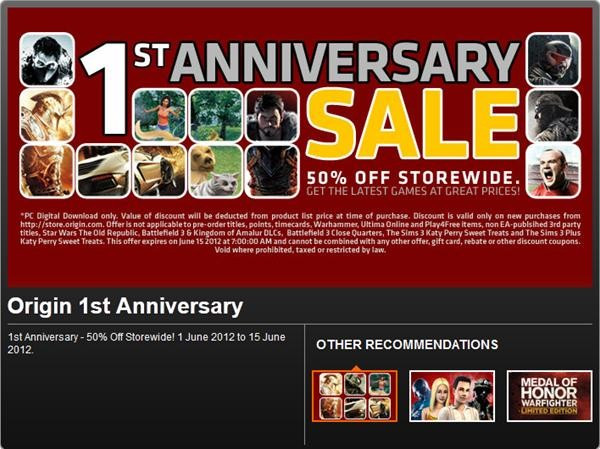 Electronic Arts (EA) has been hogging the limelight for quite a while amid the spate of controversies surrounding the beleaguered game publisher. This includes the much publicised ending for the Mass Effect trilogy forced EA and BioWare into submission after fans flooded BioWare forums with angry comments.
Much to the gaming fraternity's chagrin, EA Vice President and Origin boss David DeMartini made a controversial statement a couple of weeks ago. He stated EA wouldn't be offering "deep discount" sales on their Steam-rivalling Origin service.
"I just think it cheapens your intellectual property," added DeMartini, according to Rock Paper Shotgun.
As The Escapist notes, DeMartini's statement now sounds odd, given that Origin announced it own major sales push to gain ground on Steam. Some special discounts on popular game titles come in the wake of Origin's anniversary celebrations for the North American market.
These game titles include TERA's Collectors' Edition (available at $41.99 and discounted from its earlier price of $59.99); Mass Effect 3's Digital Deluxe edition (priced at $47.99, down from $79.99); and special editions of Battlefield: Bad Company 2 and Battlefield 2142, pegged at $29.99 and $8.99 respectively (formerly $49.99 and $14.99).
Big game titles across Europe are now selling at a measly £5, thanks to a massive devaluation from their earlier Origin prices. The list of devalued or depreciated game titles includes Dragon Age: Origins with a massive discount of 87.5 percent.
In addition, titles like Spore, Need for Speed: Hot Pursuit, Darksiders and Battlefield: Bad Company 2 get a massive 75 percent off, followed by 66 percent discounts on Alice: Madness Returns and Darkspore. Meanwhile, Dead Space 2, Shank, Battlefield: Bad Company 2 Vietnam, Mirror's Edge, The Saboteur, Gotham City Imposters, Gatling Gears and Batman: Arkham Asylum are selling at half price from existing Origin prices.
These prices are not discounts made on the original retail prices but actual discounts on special Origin prices. That sounds like a double treat indeed, as EA has offered a massive devaluation over intellectual property without a second thought.
The big question would be if DeMartini's negative comments led to a swift reversal of EA's stance amid the possibility that fan outcry over his comments could have forced the publisher into submission.
Nevertheless, it will be an interesting prospect to see if EA acknowledges its reversal of decision or just dismiss DeMartini's comments as a joke.