The 5.8-magnitude earthquake that hit the northern Italian region of Emilia-Romagna has claimed its 17th victim, as the body of a worker was pulled from the rubble of a medical equipment factory.
Rescue workers recovered the body from what was left of the Haematronic factory, where three other workers lost their lives when the building collapsed in the earthquake.
Earlier, a woman had been rescued after spending 12 hours under the debris that was her home in Cavezzo, in the province of Modena, near Bologna. The town of Mirandola and Cavezzo were closest to the epicentre.
Around 200 people were injured by the quake just nine days after an earlier tremor claimed six lives and left 7,000 homeless.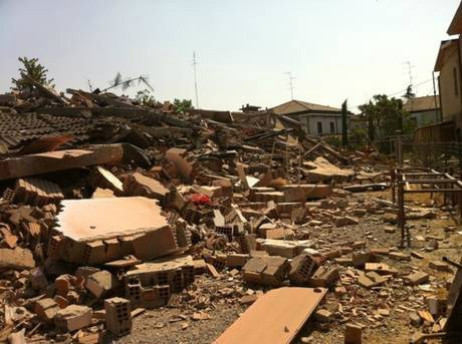 The region experienced more than 60 aftershocks overnight as thousands of people slept in tents.
Seismologists said the aftershocks could continue for days or even weeks.
"One cannot exclude the possibility that there could be more powerful earthquakes," said Enzo Boschi, president of the National Institute of Geophysics and Vulcanology.
In Mirandola, the earthquake toppled the roof of the cathedral, covering the floor in tiles and dust, while the famous Ducal Palace was damaged in the town of Mantua.
Among the 17 who perished in the quake, 10 were factory workers. Three people died in Cavezzo, three in San Felice sul Panaro, five in Mirandola, one in Novi di Modena, four in Medolla and one in Concordia.
The rising death toll has triggered criticism of factory owners, and the authorities, for failing to ensure the safety of their facilities before reopening in the aftermath of the earlier earthquake, which struck on 20 May.
"A new quake has hit the Emilia Romagna region, leaving victims, wounded people and damaged buildings in its wake," Prime Minister Mario Monti said in a televised address from Rome.
Pope Benedict XVI sent his condolences to the families who lost relatives in the quake, which also claimed the life of a priest, who had been trying to save a statue of the Madonna from a small church in the town of Rovereto sul Secchia.