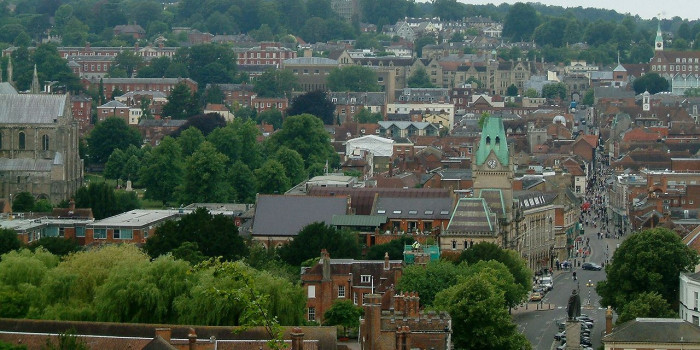 The Hampshire town of Winchester has been shaken by a small 2.9 magnitude earthquake, the British Geological Survey (BGS) has confirmed.
The quake, which occurred at about 18:30GMT (27 Jan), shook buildings in the town according to social media posts. Although it only lasted a matter of seconds, locals reported it feeling like an explosion and sounding "almost as if Concorde had flown over", according to Matthew Emery from South Winston.
"Everyone felt it and came outside to see what was going on," said Rachel Cristofoli from Kings Worthy. "It lasted about 5 seconds, but the houses all shook from top to bottom."
Police were swamped with calls from people who thought an explosion had taken place. However no injuries have been reported.
"Our house in Winchester just shook enough to rattle glasses in the cupboard, accompanied by a boom sound!" tweeted Jen Gupta.
Hampshire Fire and Rescue Service tweeted: "Seems like reports of small tremor in Winchester area this evening true."
The quake occurred at a depth of around 3 km at Headbourne Worthy, but the BGS stressed quakes of that magnitude are not uncommon in Britain. There are about 10 per year of a similar strength which can be felt quite a distance from the epicentre.
"We live on a dynamic planet," said BGS Seismologist David Galloway. "We're actually sitting in the middle of one of the plates on the earth's crust, but because of the stresses caused by all the movement, we still get little earthquakes in the UK."
Britain's largest recorded earthquake was the North Sea earthquake of 1931, which had a magnitude of 6.1. Many environmentalists believe fracking could potentially lead to more tremors.