A 5.9-magnitude earthquake hit Japan's Honshu island on Saturday, according to the US Geological Survey.
The quake shook the Fukushima nuclear power plant near Iwaki, 42 miles (68km) away from the earthquake's epicentre.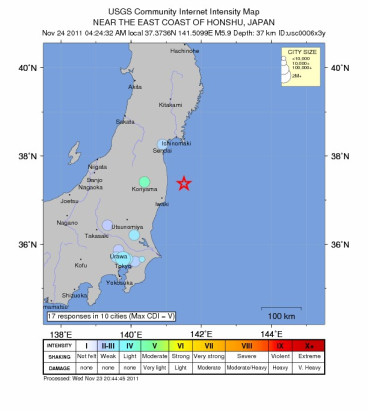 Fukushima's neighbouring areas on Japan's Pacific coast were also shaken by the earthquake, which occured at a depth of 22.9 miles (37km).
Tokyo Electric Power, which owns the Fukushima plant, said there were no irregularities found at its Daiichi or Daini plants.
Japan's national broadcaster NHK said there was no tsunami warning. There were also no immediate reports of casualties or serious damage.
Last month, a 6.8-magnitude earthquake hit central Japan's Nagano region around 105 miles (170km) north-west of Tokyo, with its epicentre at a depth of 10km.
Several people were injured and a number of buildings collapsed, the Kyodo News Agency reported.
NHK also reported that some traffic was disrupted due to a landslide which caused a roadblock, with road and train authorities carrying out checks to ensure safety.
High-speed trains were also affected by the quake, and around 200 homes were reported to have been left without power.
Japan's national public broadcaster NHK reported that Tokyo Electric Power Company said there was no damage to any of the seven nuclear reactors at the large Kashiwazaki-Kariwa plant in the neighbouring Niigata prefecture, as they have been offline since 2011.
In March 2011, Japan was hit by a 9.0-magnitude quake that triggered a massive tsunami, which in turn sparked the Fukushima nuclear disaster. Around 18,000 people died or went missing in the aftermath of the disaster.